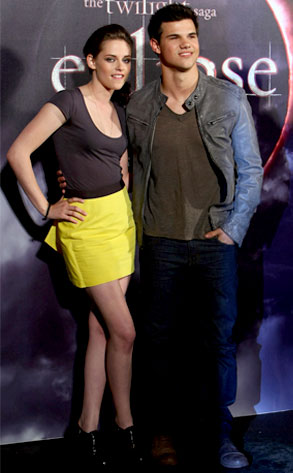 Don Arnold/WireImage.com
"We just laugh at it together."
—Taylor Lautner, when we asked him after the Eclipse press conference what he and Kristen Stewart made of the tabloid rumors about them. Most recently? Famous Magazine's report that Tay-Tay is fighting for Kristen and was the muscled shoulder to cry on in Sydney when Robert Pattinson supposedly (and wrongly) dumped her before their press tour Down Under
Think Rob and Kristen are as lighthearted about the gazillion tab stories about their relaysh? Surely they must be, since 99 percent of them are false. But there was one thing Us Weekly sorta got right on its latest cover. But you all are sick of Twilight and have no interest in that...right?