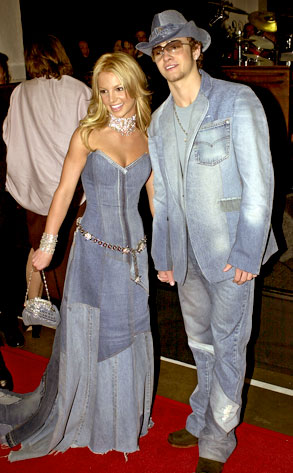 AP Photo
Dear Ted:
Britney Spears and Justin Timberlake were true loves. I hope one day they'll at least be friends again! Have they seen each other lately? Do they talk? Will they go to an awards show together ever again?
—Quina
Dear Sexy (Flash) Back:
B and J have (almost) always been on good terms, but none of Brit's relationships were ever really the same after her big ol' meltdown—and I'm not talking the bald-headed one. I'm talking post-Justin. But Justin still cares deeply for his ex-flame and friend—and that's why we still love him, too. As for awards shows, you can go ahead and take that one off your wish list. Not gonna happen, babe, at least not soon.
Dear Ted:
As I watch Sandra Bullock pack her image with as much smiley silliness as possible, it seems clear to me her intent is to not be Jenifer Aniston, right? I bet pity might be one of Sandy's least favorite things.
—Lance
Dear Apples and Oranges:
Puh-lease. Sandy is in a different league. She's so much wiser. She isn't even remotely concerned about being compared to the blind, wandering prophetess of romantic purgatory that is Jennifer Aniston. Be that as it may be—I heart both chicks equally, really I do.
Dear Ted:
At one point you mentioned that Toothy was born in Texas? This Toothy Tile thing is killing me! I must be superlame, because even with the hints, I haven't got a clue. Is Ryan Cabrera from Texas?
—Barry, the O.C.