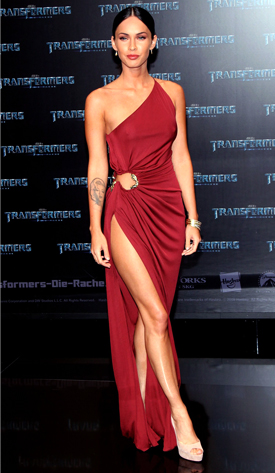 Anita Bugge/Getty Images
Dear Ted:
Is Venetia Vag-O-Matic Megan Fox?
—Kassie
Dear Les-Me Not:
Nope, Megan is not our vampin', loser-in-love lesbian Venetia. Think far less out there with her sexuality. As for Miss Fox…babe's Vice slate is clean!
Dear Ted:
I just saw a pic of Nina Dobrev and Ian Somerhalder together and was wondering if there is more to them or if they're just friends? So hot! We could call them Somerbrev!
—Jenni
Dear Couple Conundrum:
You and every other Vampire Diaries fan, it seems—which totally works for the CW, doesn't it? Your wish is their command. But don't think they're doing it on the side, sorry.
Dear Ted:
I know you love Kristen Stewart, but I implore you and all the others who follow suit to read what Lainey wrote about K.Stew's interview in Elle U.K. I, who am not a fan of Stew's work or behavior, respect a person's preferences. So it impressed me to see how Lainey, who likes Stewart, was dead-on accurate on the stupidity of her "being famous is like being raped" comparison. If she or anyone else she has ever met had ever been sexually assaulted then she should vow to never speak again. There is no comparison! She has lost all touch with vocabulary if she thinks so. And furthermore, commenting on someone's life when pics of you smoking pot are never brought up in interviews doesn't make you LiLo, but it doesn't make you a Brady Bunch kid either. I only hope that the media frenzy dies down after the Twilight flicks so she won't be interviewed as much, hence stop saying things that are astoundingly dense and hurtful. Maybe if she spoke about Robert Pattinson she wouldn't sound so moronic.
—Issey