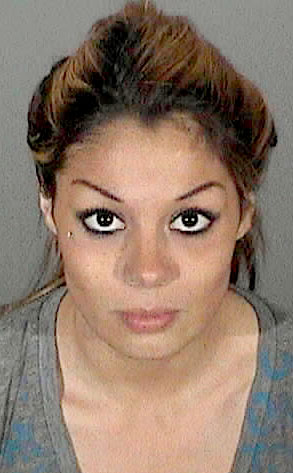 LA County Sheriff's Dept.
UPDATE: Grubbs pleaded not guilty June 14 to two counts of driving with a suspended license. She's due back in court Aug. 4.
_______________________________
While some of Tiger Woods' alleged mistresses are busy taking turns telling nasty stories, Jaimee Grubbs was busy driving.
Only, that wasn't really any better.
The 24-year-old Tool Academy alum was arrested yesterday in West Hollywood on three suspended driver's license warrants, according to the Los Angeles Sheriff's Department. Bail was set at $30,309. She posted the amount early Thursday morning, presumably without the assistance of a certain golfer. A friend gave her a lift home.
The sometimes cocktail waitress was picked up around 5 p.m. as she tooled around in her 2004 Ford Mustang around and taken into custody when they ran her plates.
After spending the end of 2009 as one of Woods' more vocal alleged lovers—she was one of the first to show off dirty text messages, after all—Grubbs since become (thankfully) more quiet. Perhaps we now know why.