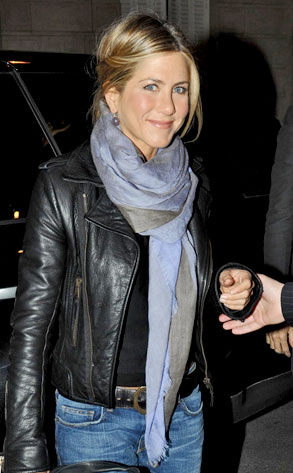 ELIOT PRESS/bauergriffinonline.com
Dear Ted:
I'm years behind, but I just saw Jennifer Aniston in both The Good Girl and Friends With Money and realized that she can act her butt off! I was majorly impressed and emotionally touched by her performance in both films! Why does she hide her considerable talent by consistently doing lame, formulaic rom-coms?
Celeb Obsessed
Dear Friend:
You're totally right, Jen has done a few movies that have left us wondering the same question. But you gotta remember that this is H'wood and the movies that have done the best in the box office, in J.A.'s case, are those lame rom-coms.
Dear Ted:
I haven't adopted a pet yet but I'm about to become an aunt to my sister's rescue so maybe I can get you to give me another clue on Moisty Mohr? I'm totally stumped and don't like it! Is he on a cable show or a network show? Is he on a drama, comedy or reality/news show? Love you and team A.T.!!
Lucy
Dear Deets:
He does both cable and network. He is not very pretty. He is most egotistical, and he's quite rich. All crazy catnip for the (even crazier) babes!
Dear Ted:
Tell me you have watched Spartacus: Blood and Sand? It's a decent show...good on the eyes! Any scoop on the actor who plays Spartacus, Andy Whitfield? Thanks!
Sinead