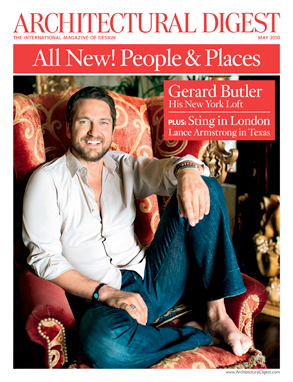 Architectural Digest
Despite all the speculation, Gerard Butler is most likely not dating his Bounty Hunter costar, Jennifer Aniston. But this might get her interested.
No, we're not referring to Gerry's charming pose on the cover of Architectural Digest—two months after her own house porn spread—but rather the photos inside that reveal the actor's gorgeous renovated loft in NYC.
"I guess I would describe the apartment as bohemian old-world rustic château with a taste of baroque," Gerard tells the mag about his pad that features 13-foot-tall mahogany doors, ceiling frescos and crystal chandeliers.
Did we mention it's two stories with an adjoining roof terrace? In Manhattan, that's worth a date alone.