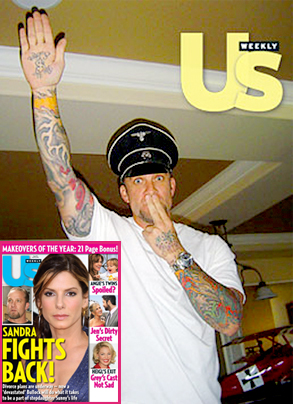 Us Magazine
Oh, Jesse James.
We're not sure how many Nazi-channeling photos need to surface of you and your purported paramours before the "ha ha, we're kidding...and edgy!" defense no longer covers it. But we're getting closer to finding out.
The newly rehabbing Monster Garager picked a good time to retreat from the public eye, as two more potentially character-killing bombshells have dropped, doing their best to further unravel what's left of his marriage to Sandra Bullock.
The first is an ill-conceived, unfortunate, though not all that surprising photo of James donning a Nazi cap, making a "heil" salute and, as if that weren't enough, using his fingers to imitate a Hitler mustache.
Well, if nothing else, it's nice to find someone you can share your interests with.