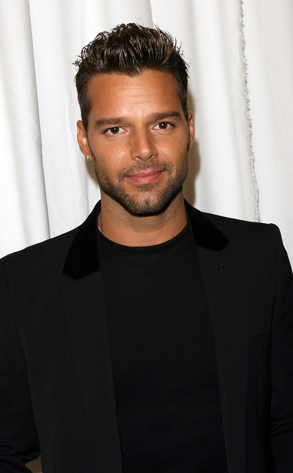 Arnold Turner/Getty Images
Dear Ted:
Spill the (Mexican jumping) beans! Does Ricky Martin have a B.V.? Come on, share with us! I respect the dude, but I want a little dirt, too.
—Raf
Dear Coming Out:
Seems like everyone wants to know what his B.V. is, but I've got to keep my trap shut on this one. The fact that these stars are gay isn't really a Vice, is it? It's the superskanky things they do with other dudes that are the naughty details of the B.V.s.
Dear Ted:
I adopted a puppy my cousin rescued from a lady on a street corner in Oklahoma. We were not looking to have a dog, but he's become a wonderful member of our family. With that said, how about some more info on Barrington Bang-Me? Is he bisexual like Nevis, or is he only into dudes? Also, what does Barrington think about Nevis' beard? Is he OK with Nevis getting girl nooky on the side, or does he want Nevis all to himself?
—Sarah
Dear Bisexual Boys:
BBM has been far more subtle about his sexuality, but I would definitely say he's not opposed to experimenting with the ladies. And that's why Barry isn't totally put off by Nev's beard. I'm sure he wants Nevis to himself—who doesn't?—but he's realizes he needs to play the beard game to get any Nevis nooky. Follow me?
Dear Ted:
Quick ques on your last poll about Nikki Reed being desperate for attention. How is it that she is the only Twilight castmember seeking fame? I mean, Kellan and Ashley are rarely photographed, with the exception of the media circus surrounding Ashley when her photos were leaked. Jackson is hardly ever seen publicly and is the most down-to-earth of the entire cast! I've never met Nikki Reed and my only knowledge of her is based on what I read in your column, so I have to say that my liking to her has significantly decreased. I do have to say, that even though she is trying to get fame and attention, she is doing it "classy." Unlike her costar Ashley Greene, Nikki did not have nude photos "leaked" to the Internet, and she does not find herself on every men's magazine seminude to get more fans. Thoughts?
—D