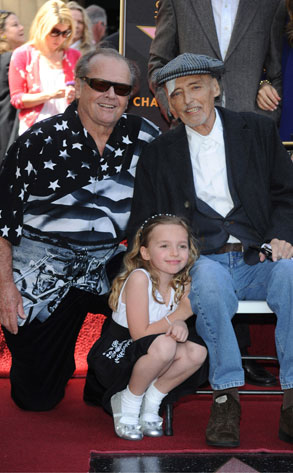 Frazer Harrison/Getty Images
Dennis Hopper received a much-needed boost this morning, making a rare public appearance as he accepted the 2,403rd star on the Hollywood Walk of Fame.
The two-time Oscar nominee, who is in the midst of both a debilitating battle against prostate cancer and an increasingly acrimonious divorce, arrived for the ceremony just before 11:30 a.m.
Jack Nicholson, Viggo Mortensen, David Lynch, Michael Madsen, Danny Trejo, Johnny Mathis and Dwight Yoakam were among the celebrity friends and costars who turned up to fete the ailing 73-year-old, who blamed a paparazzi-induced fall outside his home for the bandages he was sporting on his face and hand.
"Everyone here today that I've invited [has] enriched my life tremendously," Hopper said.