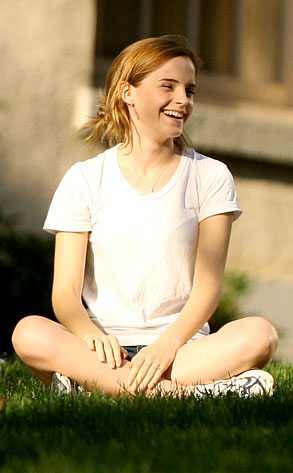 INFphoto.com
For actors, college time is play time and, apparently, that rule applies to movie stars and average undergrads as well.
Harry Potter star Emma Watson recently took a break from flying around on a Nimbus broomstick to appear in a production of Anton Checkov's Three Sisters at her school, Brown University.
As if the transition from a special effects-driven set to a stage weren't enough, the starlet, one of the highest-paid actresses in the world, didn't accept a dime for the gig, according to the U.K. Sun. Even admission to the shows was free, but only staff and students were allowed.
"Emma was nervous beforehand but was faultless in her role," a source supposedly told the tab. "
The 19-year-old is studying English literature at the Rhode Island Ivy. "Emma was over the moon that every show was a full house. She also made some friends while doing it."
As great as it is to hear that Hermione is spreading her wings and experiencing such normalcy, we can't help but wonder if allowing such a star to do a school production isn't unfair to other students in some ways.