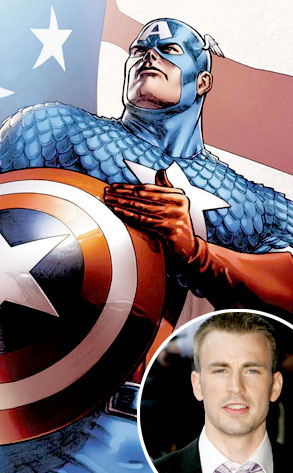 Marvel.com; Solo/ZUMAPress.com
The Human Torch has cooly accepted the title of Captain America.
Fantastic Four hunk Chris Evans has signed on to play the red-white-and-blue-defending superhero in Marvel Studios' upcoming First Avenger: Captain America, according to the Hollywood Reporter.
The trade reports that the 27-year-old actor was just offered the job last week—and, apparently, negotiations went quite smoothly.
Evans joined a pool of possible leading men that, at one time or another, included John Krasinski, Chace Crawford, Ryan Phillippe and, most recently, Channing Tatum.
Joe Johnston has been in place to direct for some time, and now cameras can start rolling in England with an eye on a summer 2011 release.