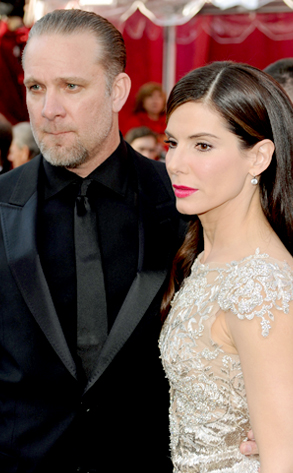 Steve Granitz/Getty Images
Dear Ted:
Crap. I actually thought that Sandra Bullock kissed a frog and he became her prince. Now I'm reading that Jesse James is a real toad stool. Please tell me that it's just a rumor! Is it someone just trying to get their "15 minutes"?
—D
Dear Fairytale:
Whether the claims made against James are true or not, it's obvious this broad just wants attention—I mean, hello, she works for a cybersex site. Like all annoying fame whores, if we ignore her she'll just disappear—but that's just wishful thinking, because we all know the tabs and news outlets are already all over this woman's story.
Dear Ted:
Gossip makes my world go 'round, and I absolutely adore your blog...but I'm curious: we live in such a litigious society, why don't celebs take more action against trashy tabloids that make up stuff? I know "all publicity is good publicity," but don't people in general want to maintain a decent reputation?
—M
Dear Legal Eagle:
Sure, celebs would love to be seen as saints (à la Angelina) and control their media attention as much as possible, but at the same time if a star goes after a story with too much conviction most people are just going to say there must be truth to it. The celebs who get poo-pooed on by the tabloids and such just hope if they ignore it, it will go away.
Dear Ted:
I think I understand why you are getting all these angry letters about Lady Gaga's weight loss. In almost all her interviews she states that she loves her fans and that everyone should be proud of themselves. If she is being forced to lose weight to fit the "ideal look" then she will be going against everything she was saying! What I can't understand is how do women like Beyoncé and Mariah Carey survive in this Industry without being thin? It's a shame people are no longer judged on talent but more appearance; hence the only reason why Megan Fox has a career.
—Doli