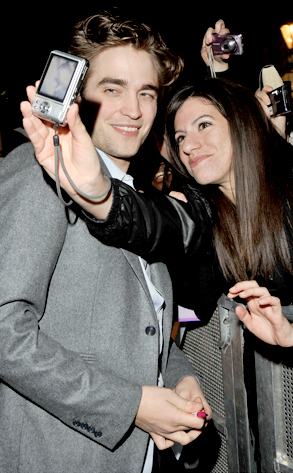 Jon Furniss/Getty Images
Dear Ted:
How much is Kristen Stewart's press team paying you to promote her, her film, and bash Rob Pattinson? Please, all the non Twihards know that this chick cannot act and has no grace in reality. Why bother? Leave Robert Pattinson alone.
—Jode
Dear PR Problem:
Babe, I would hardly consider myself a Twihard. Totally love the kids, but the movies are not great—and that's being more than generous. Which is exactly why I want to see R.Pattz and K.Stew in films that are actually good. I gave Rob his credit—his acting was solid—but the movie was a dud no matter which way you look at it.
Dear Ted:
I'm pro-love and couldn't care less about anyone's sexual preference and think it's terrible that gay actors have to hide their sexuality in order to have a successful career. That said, I kind of agree...or at least understand why they feel the need to hide it. I wish it weren't the case, but I have to be honest in saying that it does make a difference to me when I'm watching a gay man or woman in a heterosexual role, its just not believable. Like Neil Patrick Harris—such a cutie, so talented, great actor, love him...but can't watch him in a hetero role. Is it just me? What do you think the answer is? More gay roles as the norm? I'm just curious as to what you think about this. Also, why does it seem there are fewer lesbians in Hollywood? There are always rumors of gay men but not women...do they just hide it better?
—Lola
Dear Honest to a Fault:
Obviously you do care about someone's sexual preference if it affects the way you see that actor when he is playing a role—and that mentality is why gay actors are so afraid to come out. Just because, say, Angie and Brad play assassins in Mr. & Mrs. Smith doesn't mean they're out killing people on the weekend. And R.Pattz playing a vamp doesn't mean you'll find him sucking blood on his off hours. So why should it be any different for gays playing straight?
Dear Ted:
We hear plenty about Rob and Kristen and I absolutely love all the news you post since you are always so accurate, but what's going on with the rest of the cast? What's going on with Jackson Rathbone, Ashley Greene, Elizabeth Reaser, and Nikki Reed? We already see Kellan Lutz all over the place and Peter Facinelli updates us all on his Twitter. Any good gossip on them?
—K