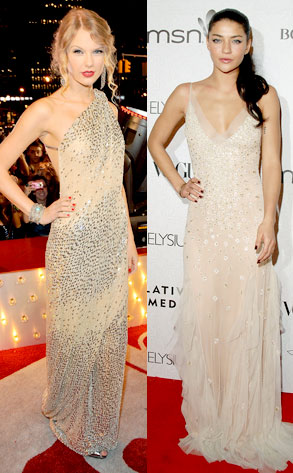 Kevin Mazur/Getty Images; Jon Kopaloff/Getty Images
We're glad Taylor Swift tried out a more grown-up, glamorous look when she stepped onto the VMA red carpet in a nude Kaufman Franco gown. She looked so sophisticated, we almost forgot she's a young'un who sings about lame boys.
But T.Swift isn't the only emerging star who's been dazzling us lately. Gossip Girl's Jessica Szohr broke out of her TV character's bohemian look at the Art of Elysium gala in a sultry Kevan Hall floor-sweeping frock that reminded us a lot of Taylor's lovely dress.
Both ladies look incredible, but one paid almost 20 grand for her makeover. Can you guess who?
Find out in mystyle's shopping game, Who Broke the Bank?—play now!