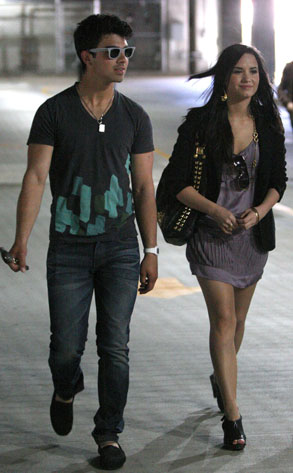 Bauer-Griffin.com
Dear Ted:
What is the deal with Joe Jonas and Demi Lovato? Is it real? If it is, it's ruining my dream of marrying Joe. You're the only one I trust and I simply must know. I'm dying here. Love you.
–Jordan
Dear Teen Dream:
What, does the AT have you so jaded about fauxmances you can't smell Disney love when it's announced super publicly on a radio station? I see your point. Don't count on it to last too long.
Dear Ted:
Oh, the drama. I hate myself for having to ask, but why did Selena Gomez and Nick Jonas break up? Please tell me it's just because they are both busy and Selena will be out of town for filming and has nothing to do with Miley Cyrus. Nick and Selena seem to be on good terms, so I'm hopeful that 2010 won't be another year of avoidance.
–Lindsay
Dear Simey:
You're barking up the wrong gossip tree here, doll, 'cause we heart Nick and Miley together. Selena is just too sweet to nab the youngest of the JoBros. Even though Cyrus is all hot for her BF of the moment Liam, we don't think we've seen the last of Niley.
Dear Ted:
I wanted to ask you something about your article on Lady Gaga shedding pounds. What gives you the right to sit up here and talk about someone losing so much weight that the person is in danger? She is normal! Everyone needs to stop treating her and every other unique person like dirt! I'm sick of it!
—The Rock Star