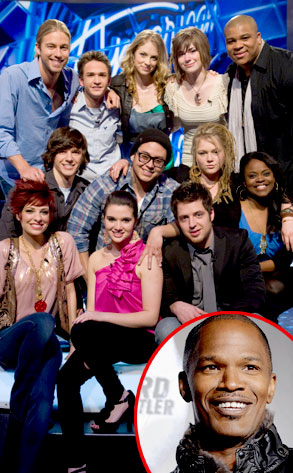 Michael Becker / FOX; Frazer Harrison/Getty Images
Multihyphenate Oscar-winner Jamie Foxx might have a whopping seven films in the works, but might he consider adding full-time American Idol judge to his repertoire?
It's time to face the facts, folks—after this season, Simon Cowell is out on A.I. and will need a replacement. And who better to suggest potential seat fillers than the latest Idol contestants?
"You can't replace Simon Cowell, [but] Jamie Foxx was on last year and had a lot of good things to say. If he wanted to step in, that'd be pretty cool to see," too-cute finalist Tim Urban mused at the American Idol Top 12 party Thursday night.
And if Jamie isn't available, fan fave Michael Lynche, aka Big Mike, is more than willing to fill Simon's shoes...