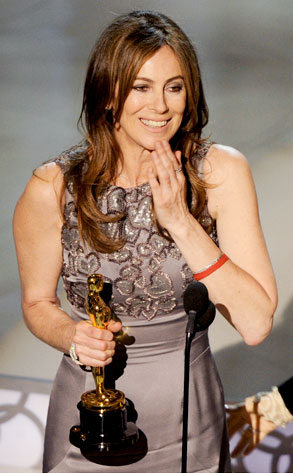 Michael Caulfield/Getty Images
"I think it's fantastic. It's because the work is good, first of all."
—Floria Sigismondi, director of bitchin' The Runaways, on how she feels about Kathryn Bigelow winning her much deserved Oscar for Best Director.
Kathryn, the first female director to win an Academy Award (for The Hurt Locker) is something Hollywood is in dire need of—gal power. And Sigismondi just might be another answer!
Women directors are so lacking in this testosterone-powered town and finally we've got another badass babe on the scene. Floria, named one of Varitey's Ten Directors to Watch, was notorious for directing music videos and does a pretty impressive job in her first feature film, staring Kristen Stewart and Dakota Fanning.
Hey, The Runaways showed the world girls could be taken seriously as rock stars, how soon 'til women are taken seriously as directors (and not unfairly dismissed because of their purported idiosyncrasies, a la, Catherine Hardwicke)? We say not much longer.