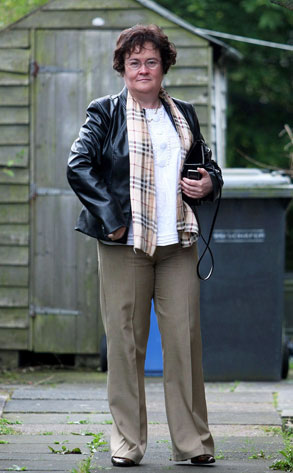 AP Photo / Andrew Milligan ,PA
She's fielded a marriage proposal (kind of), turned Adam Lambert (not like that), and witnessed justice being served (no qualifiers necessary!). All in all, a pretty full week for Susan Boyle.
A teenage boy was arrested and charged this morning after breaking into Casa SuBo earlier this year. The break-in went down in late January, when Boyle returned from a highly-publicized trip away to record Simon Cowell's Haiti charity single.
See what happens when you try to do good, kids?
"A 16-year-old youth has been arrested and charged in connection with a theft that happened at a property in Yule Terrace, Blackburn, on 26 January," a spokesman for the local police confirmed.
Since the allegedly sticky-fingered supect is a minor, his identity has not been revealed, though he has been ordered to report to the Children's Reporter, the Scottish government's program for troubled or at-risk children.