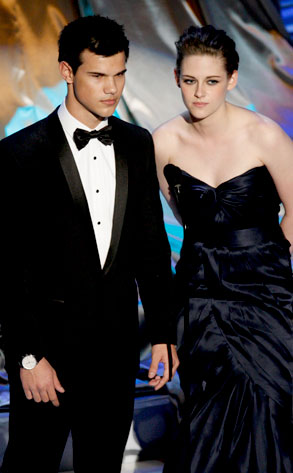 ABC/CRAIG SJODIN
First of all, I do not hate Taylor Lautner, as Martha from Chicago complains in today's Bitch-Back. I simply tire of his exquisitely coiffed abs and hair being shoved down us Twilight-oriented fans every breathing second.
As far as I'm concerned, that's Robsten's job, and Robsten's job only.
And for those of you nuts who are right about now saying, "Ted, you idiot New Moon and Eclipse are more about Taylor and Kristen," I say eat my Rob Pattinson cut-out, it's Hollywood, there's no reason storylines can't be bent for the media and the hotter couple be utilized to sell the merchandise!
Besides, Taylor is too damn perfect.
He's getting eerily reminiscent of a pod-creature who's been sent to us from Planet Preteen. Does he ever get a blemish or past a mirror without stopping?
Another weird dynamic about this Taylor Thing was is that Oscar he united two most unlikely goss reporters: