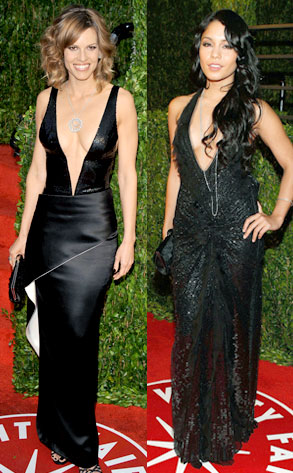 George Pimentel/Getty Images; Chris Polk/VF1/Getty Images
Dayum, the girls were out last night!
Hilary Swank and Vanessa Hudgens hit Vanity Fair's Oscar party in crazy sexy, cleavage-baring black gowns. Neither babe attended the ceremony, but the ladies sure as hell made certain they made an impact following Hollywood's biggest awards show.
Hilary surprised everyone in an Armani Privé jaw-dropper that looked like it had been painted on. And in case you weren't already checking out her assets, she had a massive Charleston diamond pendant strategically placed on her chest.
Meanwhile, V.Hud was working her most sexy seductress pose in a sequin Jenny Packham dress. We haven't seen this much of her skin since those leaked naked photos.
And they're not the only Hollywood hotties taking the plunge this season. Check out our brand-spankin'-new gallery of boob-baring ladies and let us know who's got the best cleavage on display.