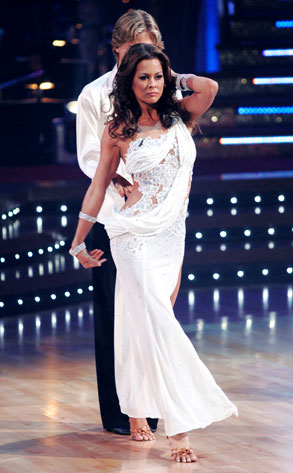 ABC/KELSEY McNEAL
Tom Bergeron officially has a new tango partner.
Of course, unlike the funnyguy, Brooke Burke already has tangoed for glory on Dancing With the Stars.
The season seven winner and former Wild On! hostess will be taking the microphone duties to lead the backstage interviews following the recent departure of Samantha Harris. Unfortunately, she wasn't on hand for the big announcement today on Good Morning America. As her Twitter feed teased, she's still on vacation with her family in Africa.
"She cleans up nice," Bergeron said. "She'll be able to talk to the couples backstage with the perspective of having been through it herself."
The 38-year-old beat out fellow considered cohosts Vanessa Minnillo and Melissa Rycroft for the gig.
Season 10 of Dancing With the Stars kicks off on Monday, March 22, at 8 p.m. on ABC.