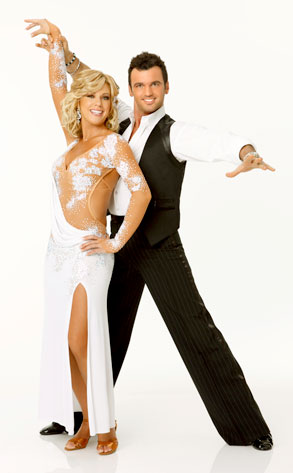 ABC/CRAIG SJODIN
Tony Dovolani couldn't snag a disco ball with reality-TV sweetheart Melissa Rycroft. But he has high hopes for reality-TV...er, um...Kate Gosselin!
"Although we have only had a week of rehearsals, I see potential," Dovolani exclusively tells E! News. "I think she is going to do incredibly well. She has the drive and determination needed to compete on Dancing With the Stars."
Well, obviously there's fire in those feet! Remember how vehemently she talked about her No. 1 priority being her kids?
"Kate has taken on this challenge to show her children that just because you're scared of doing something doesn't mean you shouldn't try," Dovolani says.
"She came to the show with no dance experience, which is actually a good thing, because I have no bad habits to fix. It is a great opportunity for me to truly use my teaching skills and show America what we are capable of once we hit the dance floor."
Don't worry, Tony. America can hardly wait.