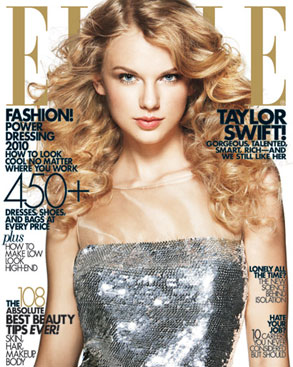 Elle.com
Taylor Swift is on the cover of April's Elle looking cute and saying generic but sweet things.
The interview must have been conducted back when she was fake dating Taylor Lautner. When asked who she thinks is hot, she says, "Um, well…Taylor Lautner." Awww, lost love, so sad.
Since her other talking points aren't quite as interesting, let's discuss the hair. On the cover, it's all about the usual big hair, sparkle dress and fairy princess look we're so used to seeing, but inside the mag, we get to see what she looks like without the curls and shiny stuff...