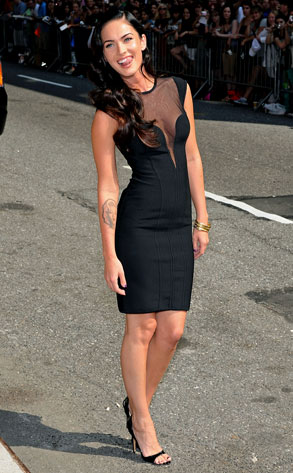 James Devaney/Getty Images
Dear Ted:
I think Megan Fox is a gorgeous, funny, and genuine girl. I think she's trying to redeem herself and people should just give her a break. I don't understand why women hate on other gorgeous ladies who are more successful, good looking, and wanted than they'll ever be. Stop pairing her up with Robert Pattinson, because the Robsten fans are just plain crazy and they will hate anyone connected to him who is not Kristen. Deal?
—Cal
Dear Foxy Friend:
Hey, don't shoot the messenger. I'm just letting you know what's going on in H'wood. If R.Pattz chose to hook up with M.F., pre-K.Stew, can you blame him—I mean, you just said she was successful, good looking, and wanted, right? 'Tho jealousy can be a real nasty look, remember that.
Dear Ted:
The date of Jared Padalecki and Genevieve Cortese's wedding almost clashed with the shooting of the new Conan movie. If Jared had gotten the lead and had been forced to pick between wearing a tuxedo or loincloth, which do you think he would have chosen?
—Leo
Dear Balancing Act:
If J.P. had landed Conan's legendary muscles, dates could have been readjusted so that he didn't have to make that choice. A wedding's only one day—not too demanding for a production schedule.
Dear Ted:
Charlie Sheen and his wife seem to have time to engage in all kinds of freaky stuff. Who was taking care of the kids? I wondered why Denise Richards looked so nervous on Oprah. He sounds like he is absolutely nuts! I would love to know where he really met the little charmer he calls wife...
—Boston