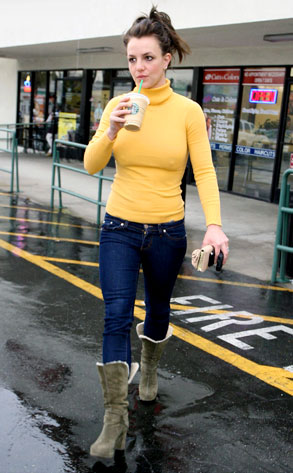 Fame Pictures
Dear Ted:
Just wondering, what's the word on Britney Spears? You've been awfully quiet about her lately. She's one that I think a lot of people would like to see content, successful and happy. How's she really doing?
—Chrys
Dear Gimme More:
Aside from buzz about her new album (rumored to release in June) and the reveal of her new Candies ad campaign, Brit-Brit's been doing what she does best: driving around LA, going on shopping sprees, or stopping at Starbucks with boyfriend Jason Trawick. Team Spears wants to keep B tabloid friendly with an oh-so-ordinary appearance while they work out some of her more, how shall we say, complex issues behind the scenes. But I can guarantee that Brit is definitely continuing to make positive improvements in her life.
Dear Ted:
Let's talk Robsten. I think in the short term the constant "are they/aren't they" speculation is PR gold and I can see why they and their management are happy to keep the cool couple's status mysterious. But, in the long run, do you think the media circus will be damaging to their careers? I love them both, especially together, but I think they're playing right into the media's hands by not clearing the air at all and it kind of cheapens their image. I'm not saying they need a five-page spread in People, maybe just a simple "yes" or "no" from a publicist?
—J
Dear Hold Your Horses:
How is keeping their private life private going to cheapen either K.Stew or R.Pattz's image? It does exactly the opposite. While other young H'wood stars are parading their blink-and-you-miss-it relayshes across the cover of every weekly, Robsten has handled the situation with class. Now that's a c-word I would use to describe the couple.
Dear Ted:
I'm a fairly new reader to your site and, I must say, you've got me hooked. Judging from past blogs, I may be one in a million here but I have a giant girl-crush on none other than Ms. Nikki Reed. My 'dar totally goes off like crazy for her, but it's hard to tell with celebrities. You know as well as I do that they only usually present what they want you to see. Throw me a bone here, Ted: Does Nikki "swing" my way? Even half way? Or is my usually spot-on 'dar getting rusty? (God, I hope not!)
—Megan