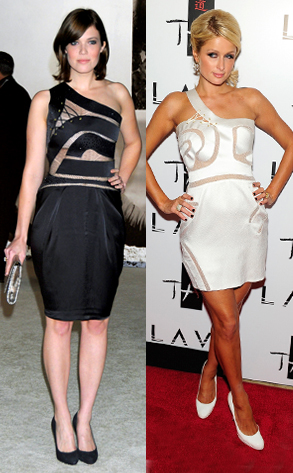 Gregg DeGuire/Getty Images;Steven Lawton/Getty Images
OK, so Paris Hilton's Preen dress isn't exactly the same as Mandy Moore 's, but it's pretty darn close. Definitely too close for the heiress to wear to her Las Vegas birthday bash—almost two years after the actress wore hers.
And to make matters worse, Mandy looked 10 times better. Minimal accessories and soft hair and makeup let the dress' geometric cutouts and edgy lacing shine.
Plus, we hate being mean to a birthday girl, but all we could focus on with Paris are her feet! When you're a size 11, bright white pumps are not your best friend.
So what do you say: Team Mandy (basic black) or Team Paris (bright white)?
Vote now on mystyle.com!