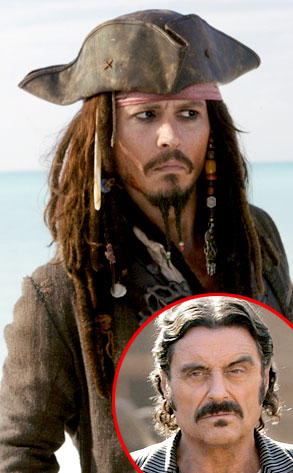 Peter Mountain/Disney Enterprises; HBO
Captain Jack Sparrow's timbers could really be shivering this time around.
Former Deadwood star Ian McShane is in talks to join Pirates of the Caribbean: On Strange Tides, the fourth film in the billion-dollar Disney franchise, as the nefarious Blackbeard, an actual British pirate who plundered aplenty back in the 1700s.
McShane most recently played a mighty family patriarch in the short-lived NBC drama Kings, and it would be nice to see him twirling his 'stache once again.
Johnny Depp has already signed on to wear eyeliner and play Sparrow again, and Penélope Cruz is aboard as his lady foil. Rob Marshall is direction.
The storyline involves a hunt for the legendary Fountain of Youth—something Depp could probably tell those pirates a thing or two about.