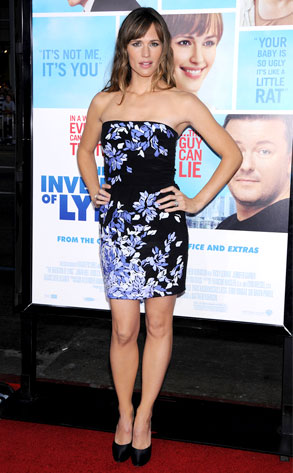 AP Photo / Tammie Arroyo
Dear Ted:
I really think you need to give Jennifer Garner a break. There was a time not so long ago that on a daily basis E! had a picture of Garner picking up her daughter at preschool. Every day? Really? Is anyone that interested in someone picking up their kids from school? As a mom myself, I can only imagine how awful and scary that must have been to have photogs camped out at her school. Until you and your staff are parents, and know what it's like to have an uncontrollable need to protect your babies, you need to back off. I'm a nice person, but I'd be a raging you-know-what, too, if I had to deal with what she's dealing with. And, as you yourself should know, marriage isn't easy, no matter who you decided to marry.
—Lodell
Dear Mommie Fearest:
Perhaps you're confusing AT with another part of E! Online, but, we've hardly run daily pics of Jen picking up Violet. Usually, we go for the stony-faced stuff with Ben, which is more of what interests us. The kid didn't ask to be a part of this stuff, and, on that note, we agree.
Dear Ted:
Ryan Phillipe just broke up with Abbie Cornish. Any hope of a Reese/Ryan reunion? It would be great to see another happy family in Hollywood!
—Shannon
Dear Domestic:
No chance for an R and R giving it another go. These two are totally (and bitterly) done. Ryan will be enjoying his newly single status, not settling down again.
Dear Ted:
What is the deal with Bruce Jenner? I will admit that Keeping up with the Kardashians is one of my "guilty pleasures" and Khloé definitely brings the LOLs, but I can't figure Bruce out. He seems to be the only voice of reason in the entire family. How does he put up with all that drama?
—Courtney