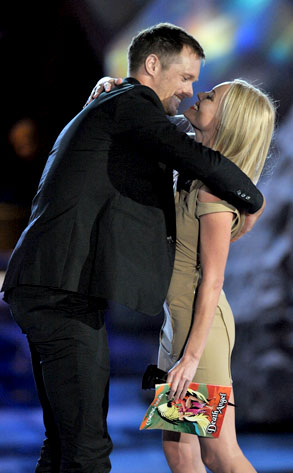 Kevin Winter/Getty Images
Dear Ted:
I just saw pictures of Alexander Skarsgard and Kate Bosworth at an event together in NYC. They deny being together but always show up together places. Why won't they just admit they're together? Are they even together?
—K
Dear Big Apples Babes:
By "together" do you mean exclusively as a couple or occasionally as two sexy stars that just like to get it on? It depends on how you define it.
Dear Ted:
Can you give us your true opinion: Do you think Robsten are in a committed relationship or just an occasional date? Before this drama (Summit/manager/distance/work) I thought they were in love, because when a girl breaks up with her long-time boyfriend, it's because she found someone really important, and, at the time, Rob seemed be so in love. But now, with this drama, I don't know anymore. They seem very strange and blogs are reporting "they broke up" or "they're not as close as they were before." What's going on?
—Susan Marie
Dear Robsten Wronged:
Everyone is getting themselves in a tizzy over the Robsten drama. Everyone except Rob and Kristen. They are cooling down to focus on career opportunities and def aren't worrying about what the press is saying about their relaysh.
Dear Ted:
It takes a big person to admit when he's wrong like you did with Danneel Harris, but I have to wonder...if you were so off base about her and Jensen Ackles relationship then what's to say you aren't off base about Rob and Kristen, or Brangelina, or Nicole Kidman and Jennifer Garner being, well, what you've described them as being? I've been reading you for years and always thought you were pretty trustworthy and just altogether better than other gossip writers, but now I have doubts about you quality of information. Please reassure me that you usually verify things before you post them and the fake wedding thing was just an aberration.
—G