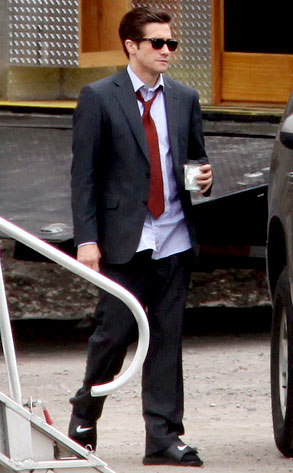 Fame Pictures
Dear Ted:
I've been a huge fan for years and I often start my gossip-related sentences with "Yes it's true, Ted says so!," to my skeptical girlfriends. I was just wondering, who do you see as Jake Gyllenhaal's next "girlfriend"?
—Rachel
Dear Gyllenspoon 2:
Gee, thanks, Rach, but, isn't it pretty simple? Who's Jake's next costar?
Dear Ted:
I recently Googled Kristen Stewart and I was surprised to find a picture of her where she appeared to be smoking some, shall we say, illegal herbs. What surprised me more was that Mischa Barton got attention from your column just the other day for possibly smoking a joint, and yet, given everyone's (including yours) obsession with all things K. Stew, this wasn't mentioned before. So, I will ask you now: Although I am all for legalization, why didn't anyone make a big deal about this? Is K.Stew some sort of exception to the "look, a star does drugs!" rule?
—Kelly
Dear Gone To Pot:
Between these two, one difference is that Mischa was behind the wheel of a car while Kristen was just bumming sumthin' on a stoop. While both ladies were hardly discreet about their actions, K.Stew was at least more responsible. Also, don't forget another prime distinction is that one of these gals seems to be more than capable of continuing with a stellar career, one isn't.
Dear Ted:
Regarding Jennifer Garner, isn't it possible that whatever happened with Taryn Ryder was a one-time thing? Maybe she was delivered some bad news just prior (perhaps something like her hubby is drinking and gambling again...or worse)? Or maybe she just woke up on the wrong side of the bed, didn't have her coffee, or her hormones were raging. Anyway, just wanted to play devil's advocate...unless you've heard enough from other people to know it wasn't a one-time thing.
—Lily