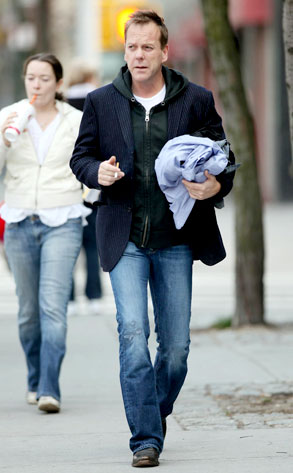 SANTIAGO BAEZ/ Ramey Photo
Much like 24's perpetually lovelorn Jack Bauer, Kiefer Sutherland will have to leave the Valentine's romance for another day.
20th Century Fox Studios has halted production on the hit series after the actor suffered a ruptured cyst earlier in the week, a 24 rep confirms to E! News.
Sutherland is scheduled to undergo minor surgery related to the ailment, but is not expected to be out long as 24 is set to resume filming in just a few days.
"While Kiefer Sutherland is frustrated to miss even one day of work, he and Fox decided together that it would be best to complete this minor elective procedure now as a precaution as opposed to six weeks from now when production wraps," his rep tells the Los Angeles Times. "He looks forward to returning to work next week."
Likewise, Fox fully supports its action-star telling the publication: "We are temporarily suspending production of 24 while our friend and colleague Kiefer Sutherland undergoes a medical procedure. We hope to resume production shortly and do not anticipate any disruption in the broadcast of this season's episodes."
24's eighth season premiered on Fox this January.