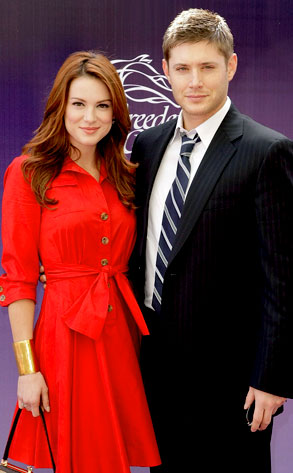 Photo by Noel Vasquez/Getty Images
Dear Ted:
Did you ask your new BFF Danneel what her fiancé, Jensen Ackles, who is so protective of his private life, thinks about the fact that his wife-to-be is making a pubic circus out of their wedding and is giving ammo to a gossip columnist who feeds the gay rumors about him?
—Audrey
Dear Ringleader:
Did we watch the same video? The only time D.H. mentioned her wedding was to say that it was going to be in May (and to flash that amazing rock Jensen gave her). Cut the babe some slack. I'd hardly say that's a circus show...or are you calling me Bozo?
Dear Ted
What do you have to say about the recent rumors about Kristen Stewart hooking up with Orlando Bloom at Sundance. I have tried ignoring these rumors but it is now all over the net. As you have been insisting she and Rob are still together, please tell us what is going on!
—Sin
Dear Sundance Secrets:
This one again? Not true...by a long shot. Even if Kristen wanted to get flirty with Orly, she'd had to have to ditch Sundance bestie Dakota Fanning, which practically never happened.
Dear Ted:
I realize he may be just a run-of-the-mill d-bag, but is anyone else concerned that John Mayer's mouth diarrhea could be a sign of something more serious? Bipolar disorder? Drugs? Is anyone planning an intervention?
—KP