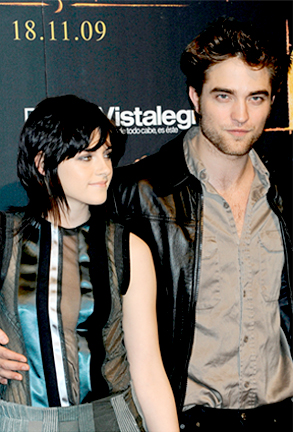 Fotonoticias/Getty Images
Dear Ted:
I've to come to your defense because you have always fed my Robsten craving and I just simply adore you. It was you who broke the news that Rob and Kristen were a thing even before it got big. You are the one we Awful Truth devotees go to for the truth when rumors come out about them. You've always been up front with us and I'm disappointed to see that people are giving you hell because of your post about Robsten cooling their relationship. People assumed they were dunzo but you never said that. I must say if it wasn't for you we wouldn't know about Robsten and all their little rendezvous, so why are people giving you hell?
—Faye
Dear Bodyguard:
I can't control what the stars—or their fans—do, I can just gossip about it afterwards, sometimes before. Things would be a way different, and even sexier, if I controlled Hollywood.
Dear Ted:
Can I make a request? I know that you cover what is popular and what people ask to read about, so I accept that there is going to be a lot of Twilight, Brad-Angelina-Jen, and, of course, Jared and Jensen. And don't get me wrong, I love the blurbs, but give us some more meaty gossip!
—Bridget
Dear Carnivore:
If you're not finding the goss meaty enough then you apparently missed our Valentines sham B.V. about poor Mrs. Couture last week. That's meaty dish served, well, not exactly rare in Hollywood.
Dear Ted:
Disney-drama is so addictive. So what's the deal with Demi Lovato and Selena Gomez? Are Nick and Selena the real deal, or are they getting something extra out of it?
—Ailsa