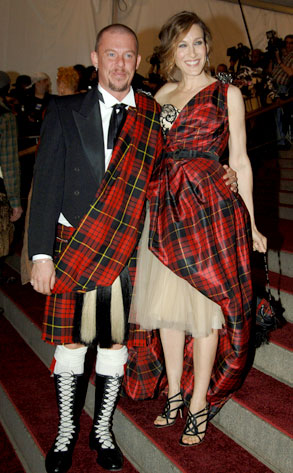 Dimitrios Kambouris/Getty Images
Alexander Mcqueen was one of the best. His creations weren't for everyone, but that doesn't matter. His collections were pieces of art that continually surprised us season after season.
McQueen was an inspired original.
"What is more devastating is that despite all his success thus far creatively, critically and commercially, his greatest achievements lay ahead of him," Sarah Jessica Parker said in a statement. "The future would be whatever he hoped to make of it."
The Sex and the City fashionista said she was "shocked and overcome with grief" since hearing about McQueen's death.
"He was talented well beyond his years and the seriousness and unrivaled talent which he applied to his work is in bountiful display year after year and collection after collection," she said. "Every single inspired, original, lofty, whimsical, stunning, brilliant and jaw dropping detail was Alexander McQueen."
Madonna said in a statement, "Lee McQueen was a truly unique visionary in the world of fashion. A creator of beauty. What a tragedy."