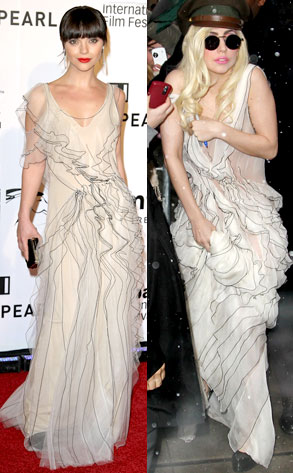 Gareth Cattermole/Getty Images for amfAR; Fame Pictures
Who cares if there's a blizzard sweeping the East Coast? Certainly not Lady Gaga.
Amid frighteningly cold temperatures, the singer shivered in sheer layers (courtesy of Marc Jacobs) as she made her way to Good Morning America Wednesday. Not only did she forgo a coat, she didn't even add a slip under the see-through material. Oh yeah, and she topped it all off with a ridiculous military cap.
Even though Christina Ricci was in the warm state of Dubai in December, she at least knew that black nippies do not count as undergarments. And her sleek updo and red lips made the delicate dress look more like a piece of art than a costume.
Or do you prefer Gaga's brave fashion attempt?
Vote now on mystyle.com!