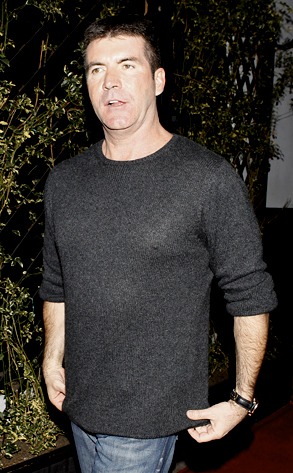 Jean Baptiste Lacroix/Getty Images
Relax, it's not Ellen!
Simon Cowell was spotted leaving dinner at Mr. Chow in Knightsbridge this weekend with his rumored new girlfriend...who turns out to be American Idol makeup artist Mezhgan Hussainy.
(In addition to working on A.I. and shows like So You Think You Can Dance, Hussainy also owns a makeup line she sells on QVC.)
Cowell, 50, and Hussainy, 36, met on A.I. in 2003 and have reportedly been dating ever since he broke up with former girlfriend Terri Seymour in 2008. The two were joined by another ex of Cowell's, Jackie St. Claire, and her husband, Carl.
However, Cowell's rep denies the two have a romantic relationship. "As far as I know, they are just friends and have been for sometime," Max Clifford tells E! News.
Ah, the old "just friends" defense. We know how that one goes.