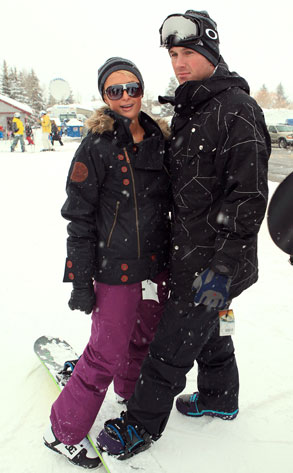 Christopher Polk/Getty Images
Now that the Super Bowl is over and done, it's time to focus on the Winter Olympics! Needless to say, we at E! Online cheer for the red, white and blue.
And, while our fingers are crossed for talented athletes such as Shaun White, Lindsey Vonn, Apolo Ohno, Evan Lysacek and Rachael Flatt to bring home the gold in Vancouver this month, we have to salute the hard-working enthusiasts competing for our hearts in Hollywood.
We're impressed by the dedication and diversity of talent shown by snowboard and bobsled stylists, Paris Hilton and Doug Reinhardt. And they face tough competition in both categories!
Katy Perry and Russell Brand are clearly determined to take the lead in the two-man 'sled race, while Holly Madison and Adrian Grenier are at their tails on boards.
Susan Boyle is working on her aim for the Biathlon, Stephen Colbert has been working out with the U.S. curling team and Ryan Gosling is getting ready to dominate in the luge. Heidi Klum, Brooke Shields and Elisabeth Hasselbeck have been working on their salchows and lutzes for figure skating glory.
You may not see these glitterati walking in the Parade of Nations Friday on NBC, but you can always find them in Our Winter Olympians gallery.