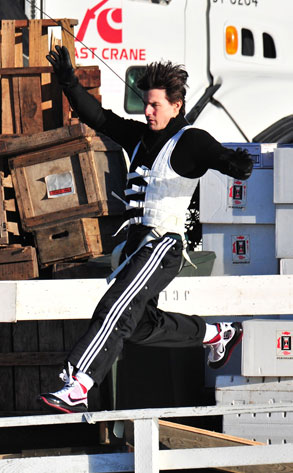 nationalphotogroup.com
Now that this year's kinda ho-hum Oscar noms have been announced, let's think of ways to sex up the damn awards in the future and perhaps prevent this yawn-worthy spread from ever happening again.
Plus, it could help save Tom Cruise's career at the same time!
Oh, and before I tell you how, can someone please explain to me why some red-hot mama wasn't chosen to cohost this year's show with Alec Baldwin, instead of pasty Steve Martin?
I know Alec's pasty, too, but, he's sexy pasty, Steve's just...pasty. Why the hell wasn't Jennifer Aniston or arch nemesis Angelina Jolie or Jennifer Hudson chosen? Yeah, I really wanna look at two bloated dudes who haven't done crunches since Lady Gaga dressed normally.
Anyway, back to how we're going to wake up the Oscars and Tom Cruise's career: