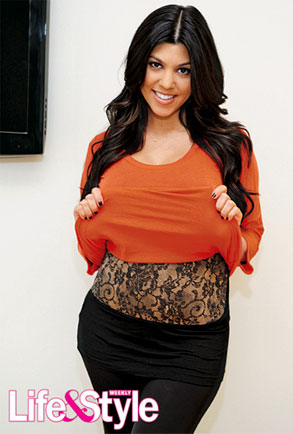 Life & Style
Last week, Kourtney Kardashian publicly decried OK! magazine for photoshopping off her baby weight and selling it as some exclusive.
But just calling them out wasn't enough. So to prove her point that she still is in fact carrying the baby fat, Kourt went to one of their competitors, Life & Style, and flashed her tummy-sucking Belly Bandit. It's a lace version she designed herself—sexy Belly Bandit.
So there OK!! Photoshop that.
While the article repeatedly blasts the media for focusing so much on losing baby weight as quickly as possible (and quotes various doctors saying how unhealthy this obsession is), there still seems to be a lot of pressure on Kourt to drop the pounds fast...