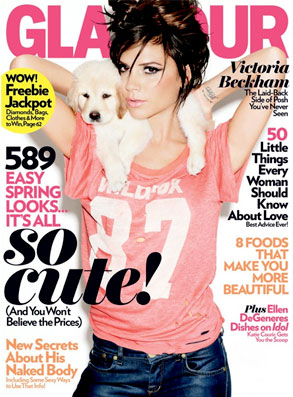 Glamour Magazine
• Victoria Beckham is on the cover of Glamour wearing one of this season's biggest trends: puppy scarves! Inside she gushes about her "extraordinary life"—you know, like how this one time she was "nervous" sharing a plane with George Clooney and also that her husband is so hot. But it's like she tells the mag, "I never try to be too cool about [it]."
• Kourtney Kardashian finally allowed Mason to make his Twitter debut on Auntie Kim's account.
• Prince Harry danced for charity in Barbados to raise money for Haiti. As Dlisted put it, he "has the moves of a math tutor after a sip of warm Chardonnay." Love it!
• Hayden Panettiere debuted her new boyfriend on the red carpet over the weekend and they make an...um...interesting pair.
• Awww, how cute is Taylor Swift trying to hold all her Grammys? Almost as cute as when she tried to sing with Stevie Nicks.