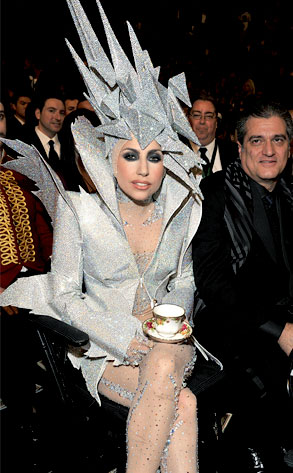 Lester Cohen/Getty Images
Though it doesn't hold a candle to Beyoncé's record-setting night, after winning two Grammy Awards Lady Gaga proved she is probably still the most wanted woman in the Biz right now.
Gaga hit up the Interscope afterparty in Santa Monica last night and was hard to miss, wearing only the nude glittered body suit you see pictured under this silver jacket here. How Britney Spears circa Toxic era, no? Oh, and she was still rocking the gigantic headpiece too, mind you.
So who was rolling in Lady Gaga's entourage? A too-cool-for-school blogger, "Papa" Joe Simpson, and…