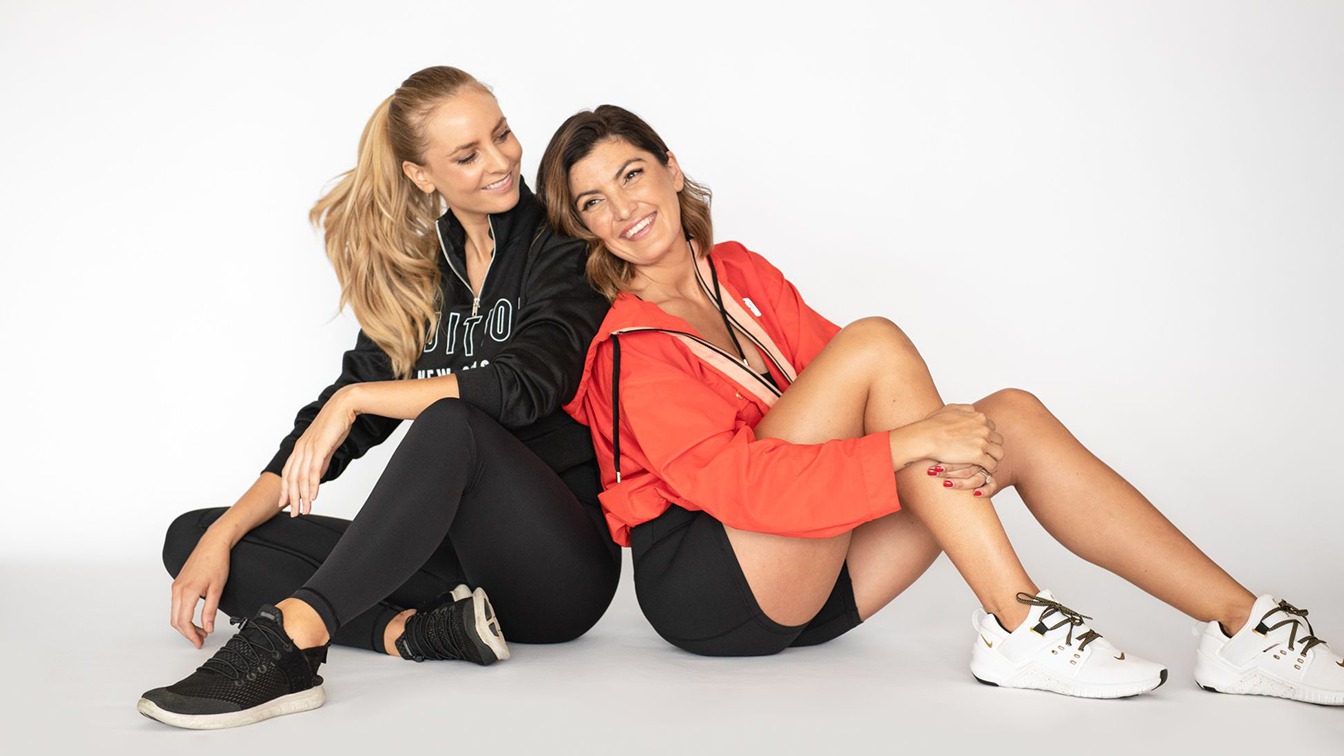 Supplied/Peaches Pilates
Are you ready to work it this Wednesday? 
The current COVID pandemic has shaken up our daily lives and interrupted our regular routines, especially those that involve—dare we say it—exercise.
With motivation slowly slipping away and gyms becoming a distant memory, we jumped at the chance to find out how to get our mojo back in Iso. We spoke with the team to find out more on the series of workout routines Peaches Pilates have developed for the upcoming series of #WorkoutWednesdays – beginning tomorrow at 11am on E! Australia's IGTV.   
Peaches Pilates founder Tori Clapham and owner Bec Chidiac share their fitness insights and tips to staying happy and healthy at home, plus give us a sneak peek on what to expect this Wednesday on IGTV.   
Where did the idea for Peaches Pilates come from?
Tori: I started Peaches back when I was working at MTV years ago. I became an instructor and then started to teach in the office before and after work.  At first, it was just meant to be a hobby, never a career! I had also picked up the nickname, "Miss Peaches" from some coworkers in the office because I liked to focus on training the booty (a.k.a peach) and from there the name really took off.
For someone that has never had a 'peachy' peach, is it possible to achieve from training Pilates?
Bec: Yes! It is.  I started with Tori before she even had a studio and I was weight training non-stop, which included lots of squats. Because I had long legs, I never thought of myself as having a round booty, until I started at Peaches which obviously has a strong focus on the butt.  
I remember the first time I noticed the change. It was after I had been doing maybe two months of Tori's classes, I was brushing my teeth in my undies, and my boyfriend walked in and said, "oh, where did that come from?". 
What is the brand ethos of Peaches Pilates?
Tori: Our business mission statement is simplified to the letters M.P.F.F.A which stands for 'Make People Feel F**king Awesome' - that's pretty much the premise of the whole business.  So that might be empowering people to start their fitness journey or helping someone scale back on doing too much working out or even helping someone discover a side of themselves through confidence which is gained through exercise. 
It doesn't always have to be about fitness either. At Peaches we have retreats and a big focus on body positivity and community awareness.
At Peaches you offer a range of classes from Pilates, boxing, weight training, HIIT, yoga and more. If you could take one class, what would be your favorite?
Bec: I would have to say boxing because it's my favorite form of exercise but all of our classes no matter what they are, lead back to the Pilates principle.
Tori: For me, it's the OG Peaches Pilates class. It's that total body toning and its such a big part of working out in my experience. When I first started the practice, it was about ridding my body of pain. But as Bec mentioned, all our classes have the Pilates principles weaved into them, which is really nice.
What are the emotional and physical benefits of Pilates?
Bec: Where do we even start? Obviously, the physical benefit comes from injury prevention. We like to think of it as 'prehab' rather than 'rehab' and I'm a massive case study for that. I've trained most of my life but was I doing the right type of training for my body? No, I wasn't. This was how I came into Pilates.  
Training the wrong or right way for you also goes hand in hand with your mental and emotional health because when you are training all the time but becoming injured for most of it, you can be quite hard on yourself. I was putting so much of my time into training, but I just wasn't getting the results I wanted back. Then I started Pilates and the physical and emotional state of my just counteract each other for me, anyway.
Tori: Definitely! And as we know science has told us that exercise has benefits for physical and mental health that are through the charts. It's really the one pill that if you could bottle it and prescribe it to everyone, you would.
When it comes to Pilates, there has been a lot of studies on the benefits of mental health and I think that's because there's a real quieting of the mind. Because you're doing so much at one time, there's no time to think about anything else like your 'to do' list or the bad week at work you've had, because it's time to focus on your form and quiet your mind.
Bec: It's also the consistency of the type of training because you're not hammering and smashing your body.  When you're doing high impact training 24/7 its hard to be consistent. And from that come fluctuation and mood changes because one minute you're peaking with endorphins and the next you're fatigued and run down.
In that case can Pilates be for everyone?
Tori: Absolutely! Pilates is the most modifiable form of exercise. We accommodate everyone. Whether they are pregnant, injured or postnatal, no matter the age group, this form of exercise can be adjusted for anyone.
Bec: I'm actually 13 weeks pregnant! So it is for everyone. We actually hear stories like this a lot in the studio. We have women that start Pilates with us at Peaches and we're usually one of the first to hear about their pregnancy because we are their instructor.  We then continue the journey with them at Peaches during the pregnancy and nine times out of ten, six  to ten weeks later these women are back in the studio after having their bubs and it's so heartwarming to see.
People are wanting to get back into the gym and back into exercise post-COVID. What do you think is the best way to do that?
Tori: Bec is always talking about setting obtainable goals and that is something that we really encourage at Peaches. Rather than trying to do something every day, setting a goal for three workouts a week (that doesn't have to entail hour long grueling workouts either), 20 to 30 minutes has been proven (once again) by science to be incredibly beneficial.  Think about it as exercise 'snacking' – that seems to be the lingo now!
Setting a goal, you can realistically keep will make you feel amazing rather than doing something completely unattainable and feeling guilty about it afterwards.
How have you both had to adapt yourselves and the business during COVID?
Bec: We had almost less than 24 hours' notice of being forced to close due to lockdown restrictions. We are very fortunate and grateful to have an incredible team that can just pivot and transform quite quickly.   We also already have an online following and training program, so we didn't have to create this whole new product to offer online.
Tori: Having an existing online training program in place was really beneficial for Peaches as a business.  We have women in over 30 countries who already train with us online.  So for us, we really shifted our focus to that online space and obviously wanted to offer people the option of accountability still.
I think that's a big part of the studio experience. Therefore, by holding a live zoom class that requires pre-booking, knowing that if you do not get up and partake in the class you will miss it, I think is really important. We've also found that Pilates is so transferable on the screen as it requires minimal space and equipment and can be done on your bedroom floor!
What can we expect to see from the upcoming 'Workout Wednesday' series?
Tori: We have five workouts planned. The first workout you're going to receive is by me. It's our original 'total body toning' style workout – we are going to be working you from top to toe.  We have a booty session planned, a leg session with Bec, a Pilates corset class which is targeted on toning the waistline and a boxing session with Bec.  If you don't have small weights don't stress! We will help you find something in your kitchen to use like a can of beans or a bottle of wine.