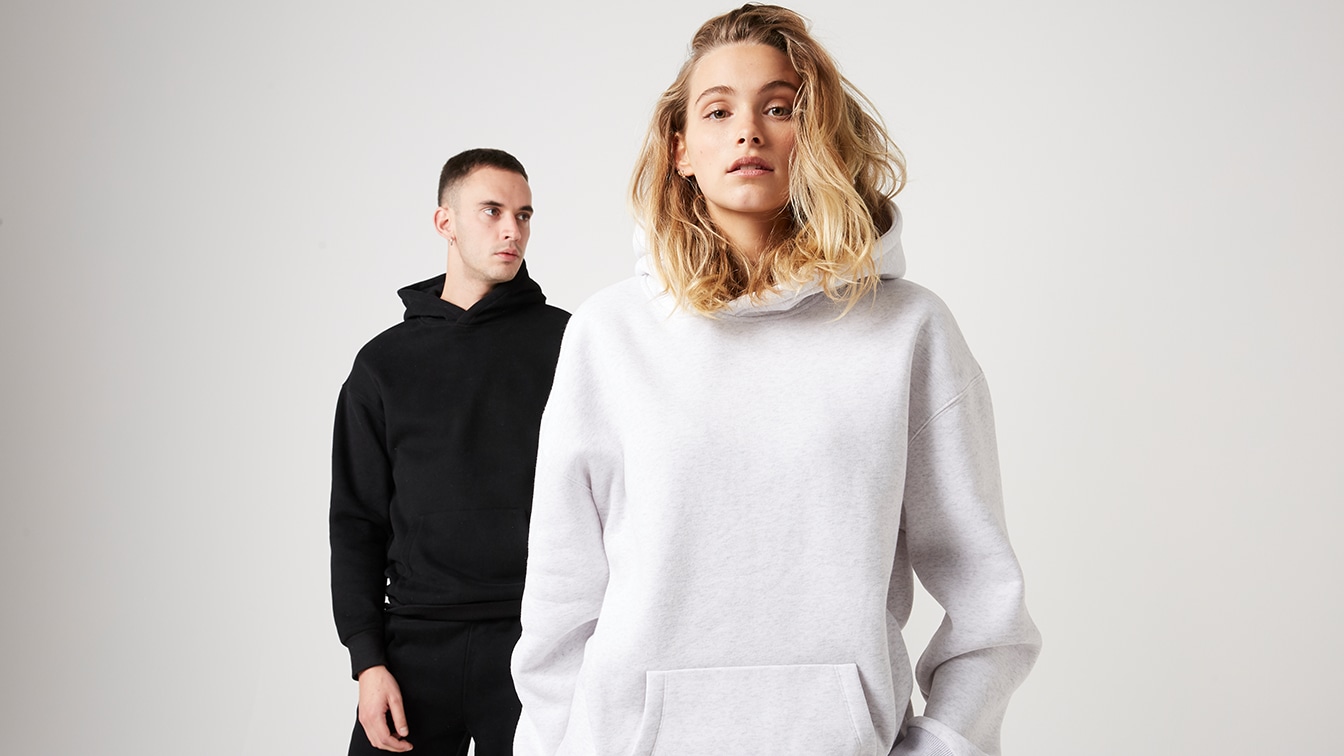 Supplied/Apparel by Rozalia
Stop, drop… she's on a roll!
When it comes to being comfy, it's hard to beat a good set of loungewear. But being cute in your Bonds trackies you've had since high school is not quite the same.
During the recent lockdown period, 2019 Australian Social Star of the Year finalist Rozalia Russian decided to pivot her unreleased collection from Melbourne chic to couch couture in an effort to combine style and comfort.
"There was just nothing; there was active wear, or there was trackies that you would wear on the couch, but you wouldn't necessarily them wear down the street," said fashion icon Russian. Enter: Apparel by Rozalia – a premium collaboration with Atoir, featuring loungewear separates designed to be worn in equal parts in and outside of the house.
Cheekily dubbed 'Apparel for Social Distancing' by the designer herself, the first drop sold out in 20 minutes, and has only seen more demand as more items are added. The collection features collared sweaters, classic grey marle sweats and ribbed tanks in a variety of seasonal shades.
Ahead of the third drop on Monday August 3, E! Australia host Francesca Hung caught up with Rozalia to get the low-down on lockdown, designing in isolation and a sneak-peek of what to expect from the latest collection.
Congratulations on your collaboration with Atoir. Honestly, incredible work. So, tell me how did this collaboration come about? What's your relationship with Atoir been?
So Atoir has been around for a couple of years now in MYER and Stylerunner, and last year they approached me to see if I would jump on board as a Fashion Consultant and collaborate with them on a range. So I thought, "You know, I would love to." And by January/February earlier this year, the whole collection was done.
We were almost in the last sampling phase, and the range was supposed to be in autumn winter range. Being from Melbourne as well, it was coats, denim pieces, along with skirts and dresses - and then Corona hit. So I decided to put the range on hold.
And then about week one of lockdown, I had an idea to instead shift the range to a loungewear  collection. We were all in lockdown, all feeling that rubbish and I was trying to buy pieces to still look, you know, cute at home. That's where I found there was a bit of a gap in the market, and that's how the collection was born.
Supplied/Apparel by Rozalia
Your first drop sold out in 20 minutes. How did you feel when that happened?
Well at first the range was dropping at seven o'clock and then even at 6:55, I tried to get on the website and the website has already crashed. So I was kind of freaking out. By the time we got the website working again, the collection sold out in 20 minutes. Not just on Atoir's website, but across different stockists as well. So it was kind surreal, it was overwhelming.
I knew there were pieces that we're going to sell out, and I knew there were different colors that would do really well. But then we planned for that week marketing on how to then push stock. So I definitely wasn't expecting to sell out in 20 minutes. And we didn't limit numbers, there was just an overwhelming response which I was completely blown away by.
How did the process of creating a collection go in isolation? I feel like it wouldn't have been that easy.
No, it was definitely challenging because usually, when you design a range, you go through at least three sampling stages. We only did one round of samples, it was kind of just like a gut feeling. We just made sure that the measurements were spot-on to, so there was no room for error. I spent a bit of time choosing fabric, and again, it was just one round of sampling and luckily the fabrics that we ended up choosing, the feedback has been so overwhelmingly positive.
Everything was done via Zoom, via emails, text messages, photos. Even when it came to selling the ranges, it was incredible because all the stockists, like we're talking about MYER, Stylerunner and 50 other stockists, they all bought the collection off sketches. Not one supplier so the actual range, so they didn't even get to feel it. I didn't get to try it on everything was just photos and everyone backed the collection that way.
So I did feel a lot of pressure to make sure that I deliver the goods. But yes, I'm super proud of how it all turned out.
That just shows how much faith Australia has in you!
You are hailed as a bit of a fashion icon, in Australia and abroad. Have you always been interested in fashion and style?
Yeah, definitely. I've always love dressing up and style, and I used to be a ballet dancer. Through years and years of putting on costumes and tutus and makeup... I've always been like that. And then in terms of being a fashion icon, I never saw myself as that. It was literally it was just your Instagram back in the day - you put on outfits, and I was doing these horrible mirror selfies.
The turning point was about three years ago, I met my stylist Elliot Garnaut, and we just started working together and having fun. He really taught me to not worry about trends -he's never been driven by trends- but also he's really simplified my wardrobe and the way I dress as well. It's very, very simple. And I think that sometimes, we've so much out there, so many different colors, so many different prints, so different labels, we can get a little bit overwhelmed.
So he has taught me to just go back to basics: a classic pair of denim jeans, with a white t-shirt and amazing boxy blazer. That's all you really need.
It's the off-duty model. It can never fail, can it?
No, no, totally.
Supplied/Apparel by Rozalia
We've seen loungewear become our everyday uniform since lockdown. Do you think there's a place to loungewear post-COVID?
Definitely. I think our whole human behavior has changed; think about the way that now we carry sanitizer around everywhere. Here in Melbourne, we're in dire straits. So the overall activity in Melbourne is that everyone is constantly applying hand sanitizers, now they've made wearing masks compulsory. In terms of the way as humans we've changed our behavior across the way we socialized, I think it's translated to the way that we dress as well.
Even before we went through a second lockdown, when we were able to go out to restaurants, when you looked around, everyone was wearing sneakers. No one really put on a pair of heels, it was a very casual look. So look, I definitely think there is going to be a place for loungewear, as long as the weather is cool enough?
In the way that I've designed my pieces as well, you can wear the tracksuit pants with a blazer, you can wear it with an oversized coat, or I sometimes wear mine with my Chanel two-strap sandals. It's just about playing around, playing with pieces and just mixing in some everyday basics that you already have in your wardrobe.
Oh, I like that. I hope that loungewear sticks around. I'm very happy in my comfies!
I know! Once you go comfort, it's hard to go back.
And finally, can you tell us what we can expect from your third drop?
So the third drop features the trench that I know everyone has been really patiently waiting for. And again, I designed this trench because it's just a classic staple that I think women need to have in their wardrobe. If you look at history of the trench, it has been around for years. So we've got the trench coming, we're trying to do a full restock of the entire drop one and drop two as well.
And then last minute, we had some feedback from different buyers if they wanted more the customers wanted more from the range. So I quickly added in another black coat, and a long sleeve top as well. So that's why the next drop might be a little bit delayed, because I added a couple more styles in. I will tell you, with this next drop, once we restock drop one, one two and drop three, I am dropping the mic. And that's it. It won't be coming back again.
Right, okay! Well, you you've a well deserved rest from this.
Yeah, I'll have a bit of a rest myself. You know, it's in lockdown. And then hopefully by the time we're reappear in Spring, I'll be launching another range.
Oh good luck! Thank you so much for chatting with us. Really excited to see your next drop.
Thanks so much Francesca, hope you enjoy it.
Shop the full Apparel by Rozalia range at Atoir.