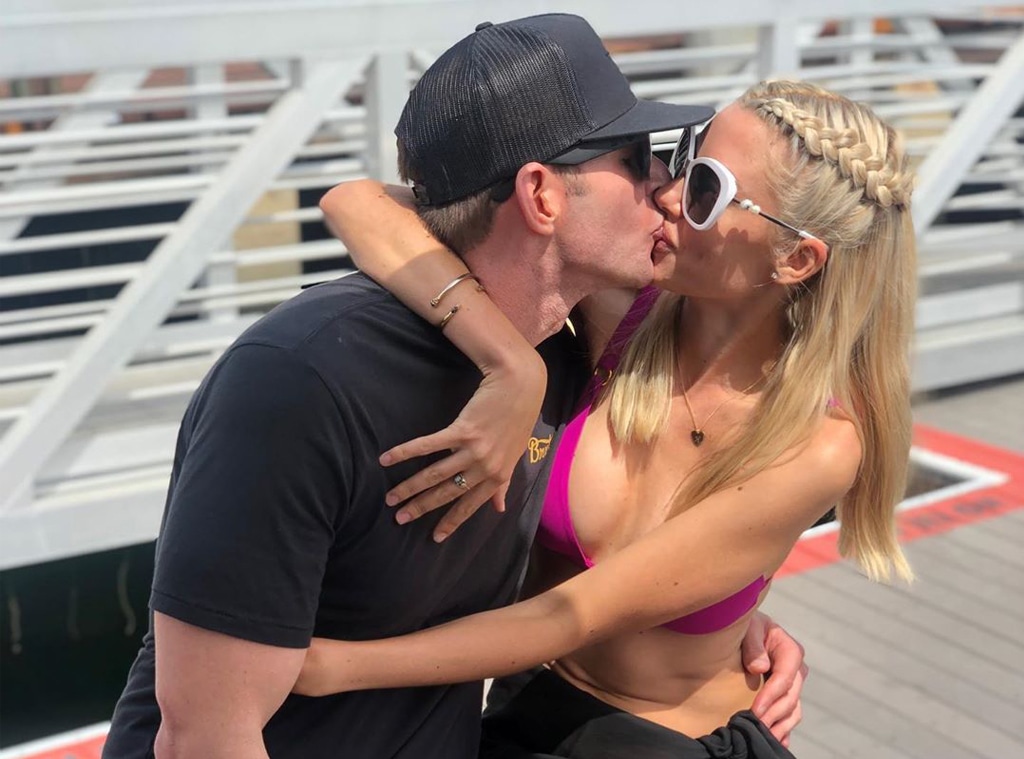 Instagram
Heather Rae Young stopped by Daily Pop ahead of the season two premiere of Selling Sunset on Netflix, opening up about more than just what's to come on the show!
The luxury real estate agent is currently dating HGTV's Tarek El Moussa, and she revealed to E!'s Justin Sylvester that today marks their ten-month anniversary.
"We are best friends. So I get to wake up to my best friend every day," Heather said, describing what it's like to be quarantined with Tarek. "I get to go to sleep with my best friend every day and honestly it's made us even stronger, if we could even get stronger. I just told him last night, I'm excited about every day because I get to see him. Like, we are so in love and so happy."
Tarek shares two children with his ex-wife and former Flip or Flop co-star Christina Anstead, but Heather said she didn't hesitate to embrace them. In fact, she told Justin that the two of them committed to each other "100 percent" on their second date, moving in together not long after.
"I really put myself in other people's shoes. I'm around the kids every day. Tarek and I live together," Heather began, explaining why she felt the need to reach out to Christina—something that she talks about more in the new season of Selling Sunset. "...so it's only natural for me as a woman to want to reach out to her as their mom and be like 'Hey, I'm with your kids. Do you have any tips? Can you help me? I'm new at this. Like I don't know what I'm doing.'"
Heather continued, "I was the first girl that he openly dated and introduced to his children since the divorce. I really think about, how would she feel as their mother, and a new girl is living with the kids? It's only natural for me."
Season two of Selling Sunset started filming around the same time Heather and Tarek's relationship began, but while viewers will hear from Heather about dating him and forming a bond with his children, they won't be able to see Tarek on the show.
"I would love if Tarek could film with me, but unfortunately, right now he can't because of his network and his show," Heather told Justin. "But when I signed up for a reality show, I signed up to put my whole life out there."
And that of course includes the drama between her and her co-stars, which she said is a lot worse this season.
"It seemed like every day there was something new that popped up," Heather expressed. "We're all friends—we get along, we're like sisters. We're together every day...and then like issues pop up every single day."
Justin asked if part of the reason things are so tense between the women is because of the high-stakes sales they're trying to make.
"[There's] so much money on the line, and we all have egos and it takes a special type of personality to be in the industry that we're in," Heather responded. "We are all very strong women. When you get all of us together and we're competitive and we're all fighting—I mean we're not fighting; We're encouraging to each other, we want everyone to do well—but it's a lot of money. It's our livelihood. So yeah, it's intense every single day. We're strong girls!"
However, some of this season's drama doesn't have to do with their jobs at all. Selling Sunset viewers will witness the fallout from Chrishell Stause and Justin Hartley's divorce—something that Heather said she never saw coming.
"...I had zero clue. We were filming the night before with her for a charity event and then the next day I found out and the news broke," she explained. "Obviously, we respected her and we kept our distance and we let her handle it on our own for a little bit. Of course, I reached out, I sent her a message and sent my love to her."
Heather added that since the two aren't that close, she continues to let her know, "I'm here for the wine, I'm here to take you out. Let's have girl time."
Watch the complete interview on Daily Pop's Instagram.
Catch the season two premiere of Selling Sunset on Netflix, out now!