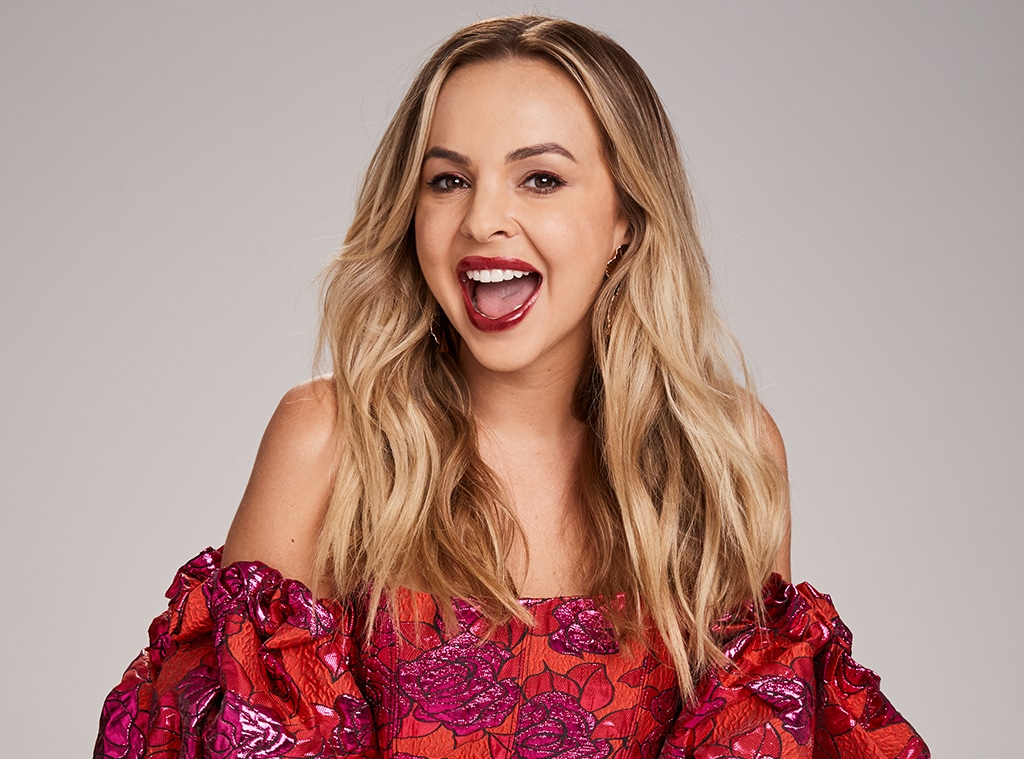 Let the battle for the coveted mirror ball trophy begin.
Australia's favourite Bachelorette Angie Kent is trading in her ugg boots for dancing shoes on the latest season of Dancing With The Stars. Having won hearts everywhere with her quick-wit on Gogglebox and no-holds-barred attitude on I'm a Celebrity… Get Me Out Of Here!, the small-screen queen is now ready to take on her biggest challenge yet: not being herself.
"Everything else I have done has just been good old Angie," admits the If You Don't Laugh You'll Cry author. "This next adventure is so much more overwhelming for me because I have a character; I love to entertain as myself, but this time I'm a different character every week. Depending on how long I stay for of course!"
Before the reality royal went into rehearsal lockdown, we caught up with her to discuss all things strictly ballroom. Forget about the roses, just save the last dance for us!
I've loved watching you on Gogglebox, I'm a Celebrity…Get Me Out of Here! and The Bachelorette. I feel like I know you. Do you find it strange that people feel like they know you so well, without having met you?
No, I love it, I feel like that's what life's all about—making connections! I think that's so nice. Sometimes I'm out and about and I'm feeling feral; sometimes I'm in a bit of mood and people want to chat, and that can actually get me out of my feral mood.
So, if people come up to you and your shopping in the supermarket, you'll have a chat?
Yeah. Always, I love to have a chat. I think it's so great, because it's been such a gradual thing for me in terms of Gogglebox. You know, you're everyone's mate, sitting on the couch with your dog, your bestie…having a wine.
Have you ever danced before, or is this a new adventure for you?
I have danced, but when I was little so I don't reckon that counts. I did jazz, ballet for a long time, from about 5 to 12 years old. My family on my Mum's side love to dance though. Every occasion we get up and dance-not very well-but we love it. My dad's side is so bad, so I get why I'm 'half-half'. I'm somewhere in the middle.
What's harder: learning the Foxtrot, or being suspended 200 feet in the air trying to pop balloons with a pointed stick?
Oh god. That's hardcore. That was so scary, the balloon thing. And I got so sick, it was boiling hot. I reckon that this [Dancing With The Stars] causes more anxiety because the judges that are beautiful, but ruthless. There's an audience, and you're also on national television and you're dancing. I was so scared about the jungle, but now looking back, I loved it so much.
What were you expecting in the weeks leading up to the show? Did you have any idea what you might be in for?
I knew it was going to be hard, but I didn't know it was going to be this hard. I knew it was going to be physically challenging, but the mental side of it is exhausting. Your brain and your body are constantly on, it's not like something where you can switch your brain off. I go to the gym and do a workout and I can tune out. And the judges will know that you didn't do that particular step. And I am just like "holy sh!t". It's next level. Dancers are incredible, they really are.
What were your first impressions of your dance partner, Julian Caillon?
He's so lovely; he's young—well not really young—but he's in his early 20s so he's got that real zest for life. Sometimes I'm like "Oh my gosh, do I have it in me?" and he's just very positive. He doesn't take anything too seriously, but he is still really strict with me when he needs to be. I need that, because I can be a bit of a minx when I can't do something right. Wowee, he's got his work cut out for him!
Can Carlin dance? Do you practice your moves together at home?
Carlin is a really good dancer, but there's a difference between dancing and being able to 'dance dance'. I reckon he would probably be better than me though at ballroom. Once I finish my dancing Monday to Friday five days a week, I don't want to dance any more. But once I get into it and have learned the techniques, I think that it will genuinely help me.
Each celebrity that appears on Dancing With The Stars represents a nominated charity. Who are you dancing for, and why?
I will be dancing for SANE Australia, a charity focusing on mental health. I'm huge on that; having struggled with that myself, having a brother with autism, and living with a man with a disability with Down syndrome for three-and-a-half years. It's always been something that's been a huge part of my life, and I have been super passionate about the fires and our country, like everybody in Australia.
SANE help people that are struggling with their mental health and the after-effects of the fires, which I love because we're not talking about that enough. We're talking about the fires ruining houses and the land, but and but we're not talking about how much this tragedy really affects people mentally. So I'll be hopefully making them proud and getting myself near the end. I don't know about winning yet!
Don't miss Dancing With The Stars, premiering Sunday, Feb. 9 at 7.30 p.m. on Ten.