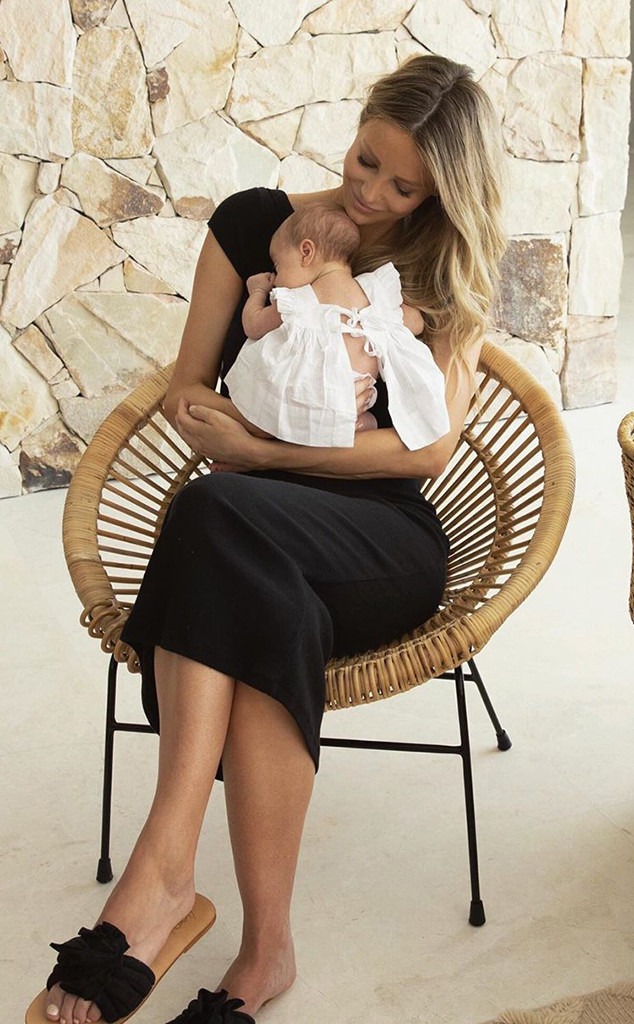 Instagram
Jennifer Hawkins can't believe her daughter Frankie is already 2 months old—and neither can we!
The former Miss Universe took to Instagram on Saturday to share a sweet new photo of herself cradling her baby girl, who is dressed in an adorable white frilly dress in the pic.
"Weekend hangs with ma girl!" the 35-year-old posted on Saturday. "Can't believe Frankie is 2 months old already?!"
Hawkins' famous friends were equally smitten, with Bec Judd replying, "Awwwww bubba," and Sonia Kruger adding, "Gorgeous baby girl."
The TV presenter and her husband Jake Wall announced the birth of Frankie in October. "Frankie Violet Hawkins Wall. Dream come true!" she posted on Instagram at the time. "So thankful to be holding our beautiful healthy baby girl! We couldn't be more in love."
The Jbronze founder has since kept fans updated with snapshots of her first two months as a new mum, from her quest to buy a new stroller to pics of Wall working out with their newborn ("My gym buddies," she captioned one post).
In a candid Stellar interview in August, Hawkins revealed that her road to becoming a mother hadn't been easy after battling stage 4 endometriosis and suffering a miscarriage in 2018.
"Last year was such a tough year for Jake and me. It was the toughest year of our lives," she told the outlet. "I felt like I almost broke and, in fact, it's still really raw. But Jake was amazing. He let me sit with the pain, feel it and not be OK."
Hawkins and her model/builder husband met in Newcastle and have been together since 2003. The pair wed in a small ceremony in Bali in 2013.
"I guess if your relationship seems to get better and better, you're onto a good thing," she told The Daily Telegraph in 2016. "Jake and I are each other's sounding boards. We vent, laugh and hang out."