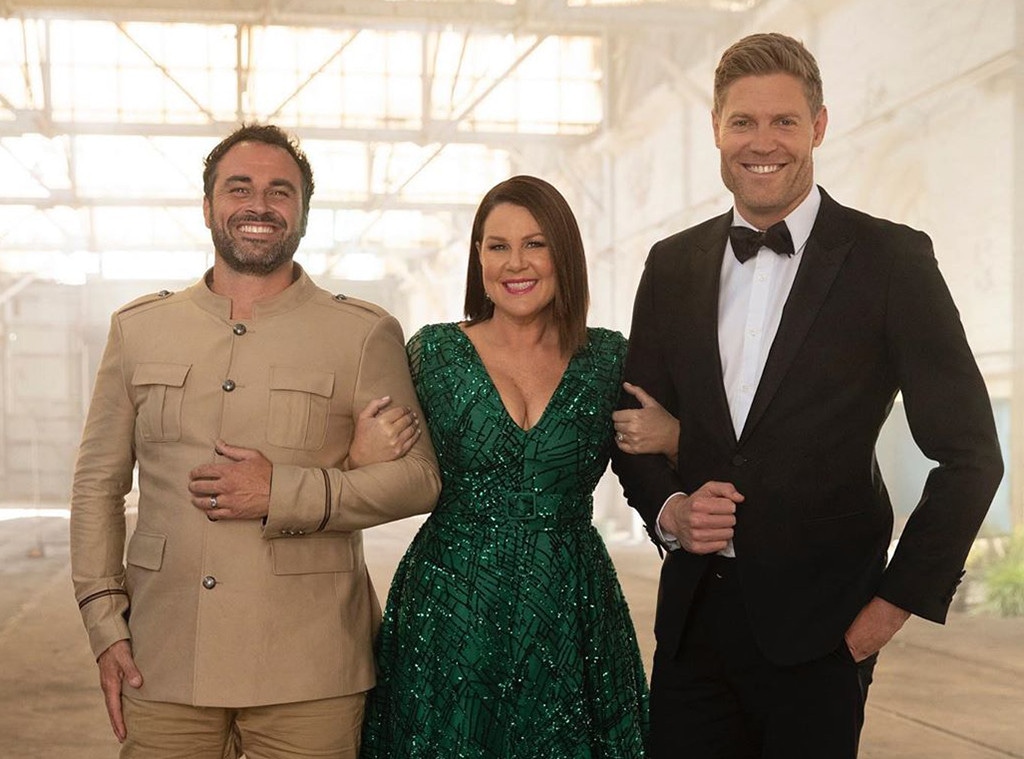 Ten
Welcome to the jungle.
I'm A Celebrity…Get Me Out of Here! returns to Australian screens in 2020, and in the leadup, Ten has been dropping clues about the famous faces heading to South Africa to compete for $100,000 for their chosen charity. Fans can expect to see a famous DJ who's also a Logie winner, a football legend, a controversial comedian and a reality TV beauty (an I'm A Celebrity staple).
In November, Ten named The Living Room host Miguel Maestre as the first contestant who will tough it out in the jungle.
"This is an amazing opportunity," Miguel told 10 daily. "Everybody's used to seeing me in my comfort zone on the sofa, so it will be amazing for everyone to see a different side of me."
He added: "And as for the tucker trials, that doesn't really scare me either because I'm a chef, so you need to be able to try everything."
Hosted by Julia Morris and Dr Chris Brown, I'm A Celebrity premieres on January 5 on Ten. Keep scrolling for all of the celebrity clues, plus the best guesses from social media so far.
1. TV megastar
The clues: She might be a hit with the tabloids, but how will she rate with her campmates? From click-bait to lion bait, we are waiting with bated breath to find out who's who in the zoo. This international party animal likes to prove her critics wrong.
The guesses: Lindsay Lohan, Paris Hilton, Chelsea Handler.
2. Leading lady
The clues: A familiar face to Australian households, this Order of Australia recipient knows how to put on a show. How will this screen siren fair trading in her air-conditioned trailer for the stuffy confessional of the Tok Tokkie?
Best guesses: Magda Szubanski, Rhonda Burchmore, Kylie Minogue, Carrie Bickmore, Kate Ceberano.
3. Footy legend
The clues: This Aussie larrikin is one of the biggest characters the game has seen. With a squad of celebrities playing hardball for the title of King or Queen of the jungle, will this athlete manage to maintain their team player mentality?
The guesses: Warwick Capper, Nick Cummins, Billy Brownless.
4. Blonde bombshell
The clues: A blonde bombshell is leaving her tropical paradise for a jungle hell. How will this reality TV beauty cope?
The guesses: Sophie Monk, Florence Alexandra.
5. Famous DJ
The clues: From setlists to snake pits, a famous DJ is making their way into the South African jungle. This headliner may be used to life in the limelight, but how will they handle life by the campfire? This Logie winner likes to make crowds laugh.
The guesses: Dilruk Jayasinha, Grant Denyer, Hamish Blake, Dave Hughes.
6. Aussie comedian
The clues: Word on the jungle vine is that this controversial blonde is no Barbie. Can they find the LOLs to get them through the ups and downs of jungle life?
The guesses: Meshel Laurie, Rebel Wilson.
7. TV presenter
The clues: From the television screen to rations of rice and beans, a popular television presenter is making their way into the South African jungle. This radio and television hunk once famously lost his shirt, think you can guess who this is?
The guesses: Tom Williams, Tommy Little, Beau Ryan.
8. Pop culture guru             
The clues: Word on the street is that this presenter spends a lot of time with their auntie. From the tabloids to the Tok Tokkie, will this pop culture guru be prepared for the South African jungle?
The guesses: Myf Warhurst, Yumi Stynes, Paul McDermott, Dylan Lewis.
I'm A Celebrity…Get Me Out of Here premieres January 5 on Ten.