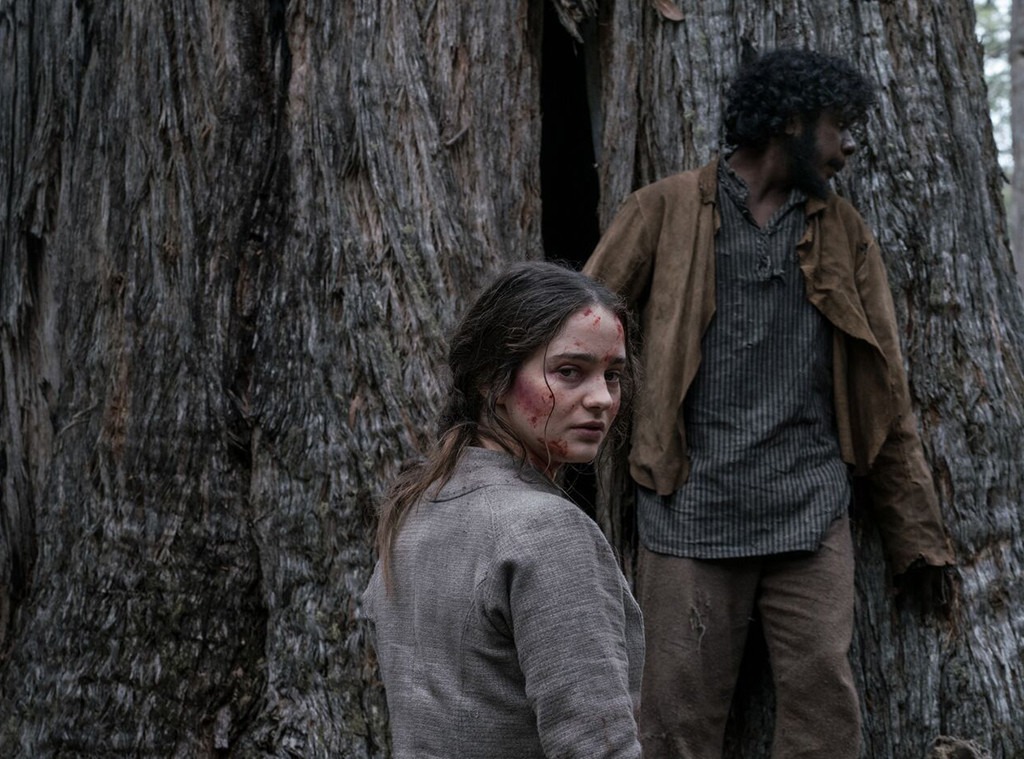 Transmission Films
Popcorn at the ready! 
The 2019 AACTA Awards are finally here to celebrate Australia's most outstanding films and TV series of the past year.
Leading the charge with a staggering 18 nominations? Foxtel's acclaimed four-part drama Lambs of God, which stars Essie Davis, Ann Dowd and Jessica Barden. Haunting revenge thriller The Nightingale is up for 15 awards, including Best Film, alongside Hotel Mumbai, Judy & Punch, The King, Ride Like a Girl and Top End Wedding.
Sam Neill is set to receive the prestigious Longford Lyell Award, while Shane Jacobson will take the reins as host.
This year's creative excellence winners were recognised at Tuesday's AACTA Awards industry luncheon, where Joel Edgerton (and his haircut) took out Best Supporting Actor for The King, and Magnolia Maymuru won Best Supporting Actress for her stunning debut in The Nightingale.
The AACTAs air on Wednesday at 8.30pm on Seven from The Star in Sydney.
See all the nominees below—and we'll keep you updated throughout the night with the winners!
FILM
BEST FILM PRESENTED BY FOXTEL
Hotel Mumbai
Judy & Punch
The King
WINNER: The Nightingale
Ride Like a Girl
Top End Wedding
BEST INDIE FILM PRESENTED BY EVENT CINEMAS
Acute Misfortune
Book Week
WINNER: Buoyancy
Emu Runner
Sequin in a Blue Room
BEST DIRECTION
Anthony Maras Hotel Mumbai
Mirrah Foulkes Judy & Punch
David Michod The King
WINNER: Jennifer Kent The Nightingale
BEST LEAD ACTOR
Timothee Chalamet The King
Baykali Ganambarr The Nightingale
WINNER: Damon Herriman Judy & Punch
Dev Patel Hotel Mumbai
Hugo Weaving Hearts and Bones
BEST LEAD ACTRESS
Nazanin Boniadi Hotel Mumbai
WINNER: Aisling Franciosi The Nightingale
Teresa Palmer Ride Like a Girl
Miranda Tapsell Top End Wedding
Mia Wasikowska Judy & Punch
BEST SUPPORTING ACTOR
WINNER: Joel Edgerton The King
Damon Herriman The Nightingale
Andrew Luri Hearts And Bones
Ben Mendelsohn The King
Michael Sheasby The Nightingale
BEST SUPPORTING ACTRESS
Tilda Cobham-Hervey Hotel Mumbai
WINNER: Magnolia Maymuru The Nightingale
Hilary Swank I Am Mother
Bolude Watson Hearts And Bones
Ursula Yovich Top End Wedding
BEST DOCUMENTARY
WINNER: The Australian Dream
The Eulogy
The Final Quarter
In My Blood It Runs
Mystify: Michael Hutchence
BEST SCREENPLAY
Hotel Mumbai John Collee, Anthony Maras
Judy & Punch Mirrah Foulkes
The King David Michôd, Joel Edgerton
WINNER: The Nightingale Jennifer Kent 
BEST CINEMATOGRAPHY
Danger Close: The Battle Of Long Tan Ben Nott
Hotel Mumbai Nick Remy Matthews
WINNER: The King Adam Arkapaw
The Nightingale Radek Ladczuk
BEST EDITING 
WINNER: Hotel Mumbai Peter Mcnulty, Anthony Maras
Judy & Punch Dany Cooper
The King Peter Sciberras
The Nightingale Simon Njoo
BEST SOUND
WINNER: Danger Close: The Battle Of Long Tan Liam Egan
Hotel Mumbai Sam Petty, Pete Smith, Nakul Kamte, James Currie, Peter Ristic
The King Robert Mackenzie, Sam Petty, Gareth John, Leah Katz, Mario Vaccaro, Tara Webb
The Nightingale Robert Mackenzie, Dean Ryan, Leah Katz, Pete Smith
BEST ORIGINAL SCORE
Danger Close: The Battle Of Long Tan Caitlin Yeo
Hotel Mumbai Volker Bertelmann (aka Hauschka)
WINNER: Judy & Punch François Tétaz
Ride Like A Girl David Hirschfelder
BEST PRODUCTION DESIGN
Hotel Mumbai Steven Jones-Evans
Judy & Punch Jo Ford
WINNER: The King Fiona Crombie, Alice Felton
The Nightingale Alex Holmes
BEST COSTUME DESIGN
Hotel Mumbai Anna Borghesi
Judy & Punch Edie Kurzer
WINNER: The King Jane Petrie
The Nightingale Margot Wilson
BEST ASIAN FILM
Andhadhun
Gully Boy
Hello, Love, Goodbye
Ne Zha
WINNER: Parasite
Shadow
Super Deluxe
The Wandering Earth
We Are Little Zombies
TELEVISION
BEST DRAMA SERIES
Bloom (Stan)
Mr Inbetween (Foxtel – Showcase)
Secret City: Under The Eagle (Foxtel – Showcase)
WINNER: Total Control (ABC)
Wentworth (Foxtel – Showcase)
BEST TELEFEATURE OR MINISERIES
The Cry (ABC)
Fighting Season (Foxtel – Showcase)
The Hunting (SBS)
WINNER: Lambs Of God (Foxtel – Showcase)
On The Ropes (SBS)
BEST COMEDY PROGRAM
Frayed (ABC)
WINNER: The Letdown (ABC)
Rosehaven (ABC)
Sammy J (ABC)
Utopia (ABC)
BEST ENTERTAINMENT PROGRAM
Australian Ninja Warrior (Nine)
Australia's Got Talent (Seven)
Hard Quiz (ABC)
WINNER: Lego® Masters Australia (Nine)
The Masked Singer (Ten)
BEST FACTUAL ENTERTAINMENT PROGRAM
Gogglebox Australia (Ten/Foxtel)
Gruen (ABC)
Todd Sampson's Body Hack (Ten)
Who Do You Think You Are (SBS)
WINNER: You Can't Ask That (ABC) 
FOR BEST LIFESTYLE PROGRAM
Destination Flavour China (SBS)
Grand Designs Australia (Foxtel – Lifestyle)
The Great Australian Bake Off (Foxtel – Lifestyle)
WINNER: Love It Or List It Australia (Foxtel – Lifestyle)
Selling Houses Australia (Foxtel – Lifestyle)
BEST REALITY SERIES
WINNER: Australian Survivor: Champions V Contenders (Ten)
The Block (Nine)
Married At First Sight (Nine)
Masterchef (Ten)
My Kitchen Rules (Seven)
BEST CHILDREN'S PROGRAM
WINNER: Bluey (ABC Kids)
Drop Dead Weird (7Two)
Hardball (ABCME)
The Inbestigators (ABCME)
The Unlisted (ABCME)
BEST LEAD ACTOR IN A TELEVISION DRAMA
Patrick Brammall Glitch (ABC)
Bryan Brown Bloom (Stan)
Ewen Leslie The Cry (ABC)
Sam Reid Lambs Of God (Foxtel – Showcase)
WINNER: Scott Ryan Mr Inbetween (Foxtel – Showcase)
BEST LEAD ACTRESS IN A TELEVISION DRAMA
Jenna Coleman The Cry (ABC)
Essie Davis Lambs Of God (Foxtel – Showcase)
Ann Dowd Lambs Of God (Foxtel – Showcase)
WINNER: Deborah Mailman Total Control (ABC)
Anna Torv Secret City: Under The Eagle (Foxtel – Showcase)
BEST PERFORMANCE IN A TELEVISION COMEDY
WINNER: Alison Bell The Letdown (ABC)
Celia Pacquola Rosehaven (ABC)
Celia Pacquola Utopia (ABC)
Rob Sitch Utopia (ABC)
Miranda Tapsell Get Krack!N (ABC)
BEST GUEST OR SUPPORTING ACTOR IN A TELEVISION DRAMA
Damon Herriman Lambs Of God (Foxtel – Showcase)
Damon Herriman Mr Inbetween (Foxtel – Showcase)
Ewen Leslie Fighting Season (Foxtel – Showcase)
WINNER: Richard Roxburgh The Hunting (SBS)
John Stanton Bloom (Stan)
BEST GUEST OR SUPPORTING ACTRESS IN A TELEVISION DRAMA
Kate Box Les Norton (ABC)
WINNER: Rachel Griffiths Total Control (ABC)
Asher Keddie The Cry  (ABC)
Brooke Satchwell Mr Inbetween (Foxtel – Showcase)
Jacki Weaver Bloom (Stan)
BEST DIRECTION IN A TELEVISION DRAMA OR COMEDY
WINNER: Lambs of God (Episode 1 – The Devil Into Paradise) Jeffrey Walker – Lingo Pictures (Foxtel – Showcase)
The Letdown (Episode 2 – The Dilemma) Sarah Scheller, Alison Bell – Giant Dwarf (ABC)
The Hunting (Episode 3 – #shittyboys) Ana Kokkinos – Closer Productions (SBS)
Total Control (Episode 3) Rachel Perkins – Blackfella Films (ABC)