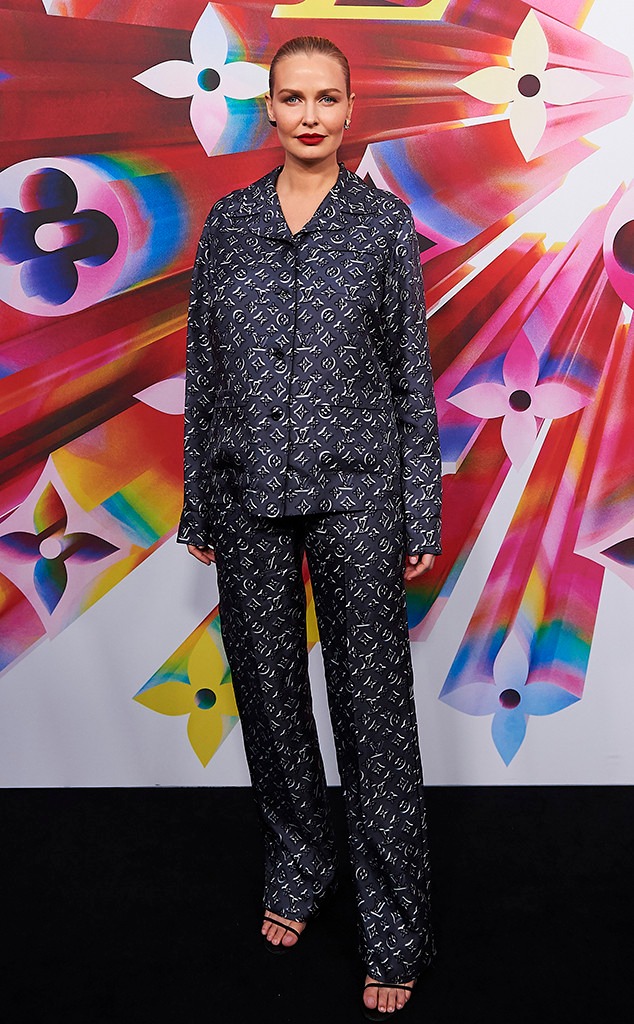 Jaimi Chisholm/Getty Images
It's official!
Lara Worthington has confirmed she's expecting her third child—a baby boy—with husband Sam Worthington.
"Yes, I'm pregnant!" the 32-year-old told Vogue Australia. "I'm having a boy, early next year. It's my third boy, and we're all very excited and very happy. I think any addition brings joy and happiness to the family, but more so when you can share it with the other boys. It's such a boy's club in my house!"
Lara showed off her baby bump in sleek Louis Vuitton separates on Wednesday night in Sydney at the brand's official re-opening of its flagship store.
The Los Angeles-based couple has two sons, Rocket Zot, born in 2015, and Racer, born in 2016.
The Share The Base founder told Vogue Australia her children were looking forward to welcoming a little brother into the family.  
"We talk about it a lot because I have spent a lot of time in bed recently. And they're like, 'What are you doing?" she said. "All boys, I think, want a brother. So another brother…you know, it's building the football team. They're excited!"
The announcement follows the Daily Telegraph's report in August that the model was pregnant, with a source telling the outlet: "It's early days but she's very excited."
Rich Polk/Getty Images for Baby2Baby
Opening up to the Sydney Morning Herald in 2017, Lara said becoming a mother had completely changed her life for the better. 
"Everything just seems far more rich and meaningful now," she said. "I love the quote, 'Making the decision to have a child–it is momentous. It is to decide forever to have your heart go walking around outside your body.' This resonates deeply with me. Motherhood has taught me the greatest love of all."
Lara, who was previously engaged to Australian cricketer Michael Clarke, took her romance public with Sam in 2013. The pair tied the knot in December 2014 at an intimate ceremony in Melbourne with close family members and wrote their own vows.  
Australian actor Sam has plenty to keep him busy; he's signed on to the next four Avatar sequels, set to roll out until 2027.
Congrats to the happy couple on baby number 3!