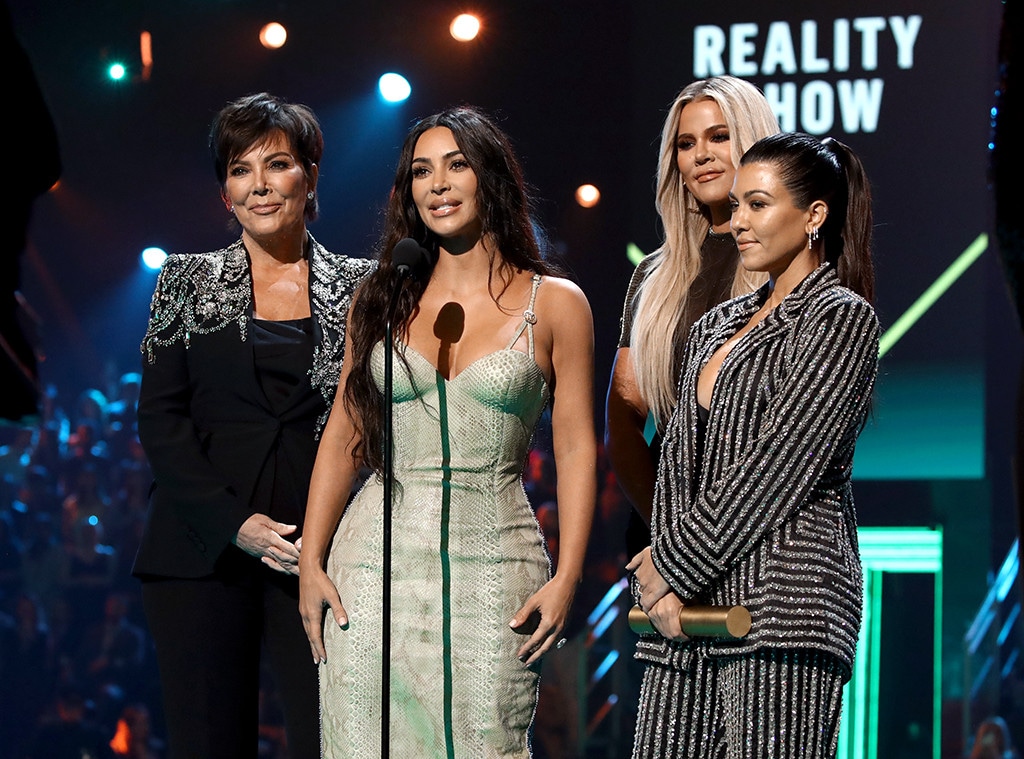 Christopher Polk/E! Entertainment/NBCU Photo Bank
There was someone special to celebrate on the Kardashian family's special night. 
On Sunday night, reality TV's favorite family took home the 2019 People's Choice Award for the Reality Show of 2019 while Khloe Kardashian was named the Reality Star of 2019. "Wow! Thank you guys so much, this means so much, 'cause you guys, the fans, voted for this and this means everything to us. You guys have been there for us for 18 seasons, we're almost done with season 18," Kim said at the microphone with her famous mom and sisters next to her. "You've seen so many evolutions and growth and transformations from all of us, personally, professionally, and we're just so glad that we're still entertaining 18 seasons later, so thank you."
While the family wrapped up the show with wins, the night had only just begun. Next, it was time to get a different celebration started: Corey Gamble's 39th birthday. Kris Jenner and her daughters headed over to a soirée held in honor of her famous beau. 
Inside, guests like Kyle Richards and Kathy Hilton joined them in a room with balloons covering the ceiling and decorative nods to Gamble's favorite football team, the Dallas Cowboys—including a star-shaped birthday cake. 
"Win , lose or Draw. Its still always about the Star.... my Boys will bounce back," Gamble captioned a shot of the sweet treat. 
Of course, there was no shortage of well wishes for the guest of honor, including from his ladylove. 
"Happy Birthday @coreygamble!!! I love you babe! Thank you for holding us all down and being such a rock," Kris wrote to him on Instagram. "You are the most amazing partner, best friend and ride or die, and I am truly blessed to have you in my life. Thanks for being on this crazy journey with me. I love you."
Needless to say, it appeared to be the perfect end to an unforgettable day. Happy Birthday, Corey!
Take a look inside the party with E!'s gallery below!